The navigation choice that changed our route....

Take Off
Jörgen Wennberg
Sun 3 Jul 2016 21:35
Wow… after 2 days of 3 challenges: sinking a fish boat, Take Off driving away and Inez that fell badly last night with her head straight onto concrete (approx 1 m fall) where off she lost her memory for a couple of hours… we felt now confident that we had everything under control and that we can now head off for Musket Cove, welcome our old crew members coming back and continue our last leg towards Australia.
We welcomed back Ellen Coomber! What a lovely warm welcoming back feeling to meet up again!
We took Ellen into town for her Suvasuva ceremony, to be officially welcomed in Fiji and off course we had to have some cava too...
Then we went to the market to start our provisioning for the next coming weeks over to Vanuatu and then Australia.
After the provisioning we had to go to the airport to make sure Marie Arvidsson and Clas Müller who were our next crew members to fly into Fiji, had the right immigration papers in order to come into Fiji. Ellen was caught with a non-signed immigration paper when she was leaving for Fiji and she had to buy a return ticket…. We wanted to avoid this for Marie and Clas.
Now that we had done all this: provisioning, fuelling and fillin up with water for a whole month we wanted to leave Denarau Marina just before dawn to be able to arrive in Musket Cove so that we could wake up there… So we were in a bit off a hurry so that we could leave Denarau Marina before it got too dark. After 30 min of motoring out of the harbour of Denarau Marina, Jörgen was at the helm, Ellen playing cards with the kids and Louise was preparing dinner… BAM!!!! We had hit ground… BADLY! The sound of hitting ground at 6-7 knots is still echoing in our ears… It hurts in the whole body although noone got hurt and we got loose straight away. But the noise goes straight through your body and clings in your ears for a while… Louise flew up again by instinct on deck, but no there was nothing there. So now for the keelson… were we taking in water? No no water. Well let's continue to Musket Cove and have a look at the keel tomorrow morning at day light. Then by instinct Louise had an extra look and found this: along the plate by the mast holding the keel, Louise could see a fine crack along the plate and that the plate was slightly elevated. Immediately she understood that we had to return to Denarau Marina… so now back for Denarau Marina …. and call Dave at Yacht help again!
This is how bad the hitting was! It even managed to bend this screw!
We anchored back again at the spot we just had left and awaited the morning. In the meantime we hade managed to arrange to lift up Take Off already the day after as well as contact Pantenius for the next damage issue. So early next morning with the high tide at 7am we lifted Take Off… Beautiful sunrise…
… however this sight was as beautiful.
The crack is to be seen on the hull's outside which means that the crack is all the way through the hull: BAD!
We realised we will not be able stay in the boat for a while, so we checked into the nearest hotel by the Marina awaiting for the verdict.
As we had to do a lot of work by the boat we managed to find a playground for Alex and Inez: Happy kids!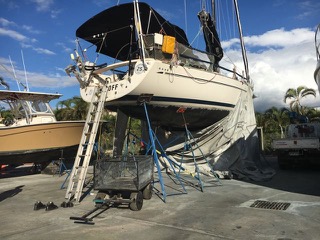 Once they had "undressed" the keel, the crack was more obvious, just in front of the keel.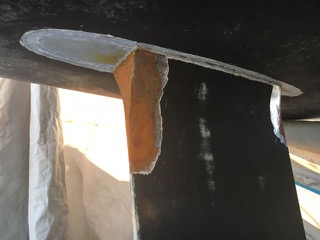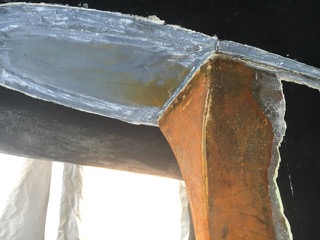 As well as inside.
So the verdict is a fact: our sailing stops here! For us it is not a big issue as we will continue from here next year, however for our friend Marie and Clas, who are arriving into Fiji today and expecting to sail with us for a whole month all the way to Australia: this felt really bad! However we were it was Clas and Marie: as they are the best friends you can have with the best attitude!
The keel will be removed, however it is the boat that will be removed from the keel!… They bild a rack around the keel, take off the bolts and lift the boat from its keel. And start to work on the boat!
Presents from Marie and Clas for Alex and Inez!
---