The Rendez-vous in Nuku Hiva

Take Off
Jörgen Wennberg
Sat 2 Apr 2016 22:47
The day after we finally could see what the bay looked like in real when not raining. It is really beautiful with big mountains hanging over the bay.
Today is a day of a "Rendez-vous" in Nuku Hiva. Rendez-vous is when the local people organises a special day just for the World ARC fleet. So lucky we are with the weather! It all started with a welcoming dance by the Marquesians.
Then they invited the fleet to come and join them in the dance. Jörgen was quick to join…
… and play drums.
Everyone got these nice necklaces made of beans.
After the dance the Tourist Office organised a whole day with work shops where we could try all sorts of typical Marquesian activities. Some took the chance to go off rowing in the Marquesian canoes...
… others helped to do a basket of leaves. Louise and Louise ;-)
We also got help to make our own head bands. Some managed to get the right size, others did not...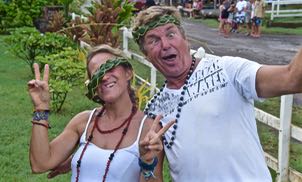 The basket could also serve as a stomach holder according to Eric! A happy Marquesian women with a typical head decoration for the occasion.
We had a taste of the Marquesas tasting the fruits of the country: coconut, star fruit, bread fruit...
And now to the best part of the day according to the kids: making your own bean-necklace! Everything was prepared, we just had to add our own imagination to how we want to have our jewel.
Total concentration and satisfied creator!
Louise happy too to get her own bracelet adding on to the rest of the earlier bracelets from Panama, Columbia and the Galapagos.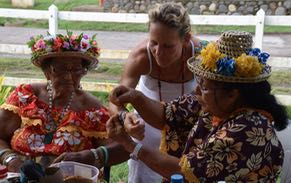 A stone Tiki and Cécile ordering tikis in wood with all our names carved on them.
The whole day was accompanied by the local band playing local music. Nice!
In the evening the Tourist board and the Mayor of Nuku Hiva welcomed us serving dinner with local food and giving us more dances and music.
The gifts of the day.
---