Landing on Christmas Island

Take Off
Jörgen Wennberg
Thu 21 Sep 2017 11:31
Once we had finished Alex's Birthday breakfast with this lovely view from the stern of Take Off, customs came on board to check us in.
After we took our dinghy into shore to continue the checking in with immigration.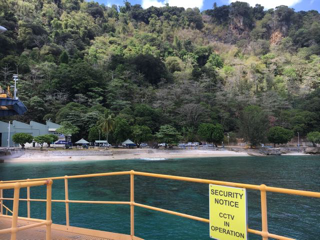 After the checking in we continued our walk into town called Flying Fish Cove (same as the name of the bay where we were anchored)
passing the post office and the court house.
CHRISTMAS ISLAND HISTORY & MAP & FLAG
Captain
William Mynors
of the
Royal Mary
, an
English East India Company
vessel, named the island when he sailed past it on Christmas Day, in 1643.
The island was included on English and Dutch navigation charts in beginning of the 17th century
.
English navigator
William Dampier
, aboard the English ship
Cygnet
, made the earliest recorded visit to the sea around the island in March 1688. He found it uninhabited.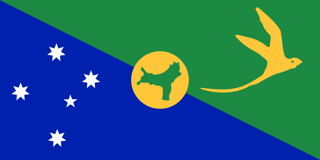 In 1886, Captain
John Maclear
of
HMS Flying Fish
, having discovered an anchorage in a bay that he named "Flying Fish Cove", landed a party and made a small collection of the
flora
and
fauna
.
In the next year,
Pelham Aldrich
, on board
HMS Egeria
, visited the island for ten days, accompanied by
J. J. Lister
, who gathered a larger biological and mineralogical collection.
Among the rocks then obtained and submitted to Murray for examination were many of nearly pure
phosphate of lime
. This discovery led to
annexation
of the island by the British Crown on 6 June 1888.
Soon afterwards, a small settlement was established in Flying Fish Cove by
G.Clunies Ross
, the owner of the Cocos (Keeling) Islands some 900 kilometres (560 mi) to the southwest, to collect
timber
and supplies for the growing industry on Cocos. Phosphate mining began in 1899 using
indentured
workers from
Singapore
,
Malaya
, and
China
. John Davis Murray, a mechanical engineer,
was sent to supervise the operation on behalf of the Phosphate Mining and Shipping Company. Murray was known as the "King of Christmas Island" until 1910, when he married and settled in
London
.
The island was administered jointly by the British Phosphate commissioners and district officers from the United Kingdom
Colonial Office
through the
Straits Settlements
, and later the
Crown Colony of Singapore
. During those years Chinese labour was used, thereof a large community of Chinese people on Christmas Island.
The phosphate is still being exploited and ship come every week to collect the the phosphate.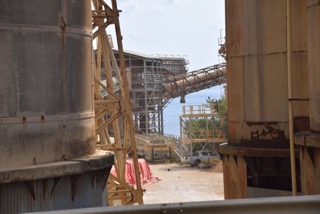 ---