Pearl Lodge Hotel became our second home!

Take Off
Jörgen Wennberg
Fri 25 Mar 2016 10:40
Pearl Lodge Hotel up in the mountains over the village of Atuona in Hiva Oa became our second home. Lunches, wifi, swimming pool and we even luxured us with one night at the hotel.
Wonderful how obvious things back home become a luxury: a big bed that is not damp and not rolly, dry and still! A toilet you can flush, TV and space, space and more space.
Jörgen and Louise enjoyed this view….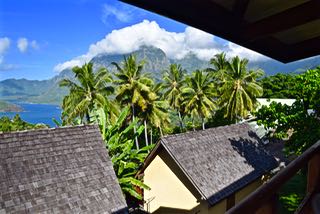 … while Alex and Inez enjoyed this!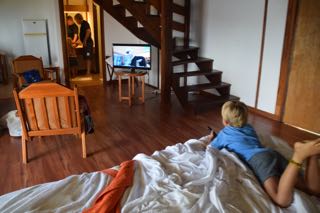 A table that is not moving and eating on porcelaine is a also a simple luxury!
At the Pearl Lodge Hotel Alex and Inez learned to finally quit their armbands in the pool. So far they only swim under the water and are working on swimming with their heads above the water. They are now like to small fishes!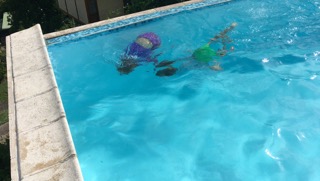 ---