The moments of good byes...

Take Off
Jörgen Wennberg
Tue 3 May 2016 10:05
The American family on the catamaran "Do Over" left the fleet in Papeete and threw a good bye party on the pontoon.
All the kids playing all together for the last time...
Sheila on Mystique Soul and Paula from Do Over.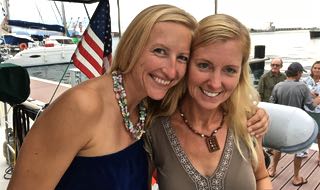 Dazs on Mystique Soul with Dan on Do Over and Daniel on Heidi. Guy on Widago with Jason on Two Fish and Sheila on Chili Bee.
As Bryan was celebrating his 12th birthday when all the fleet was to leave, Paula had arranged a birthday cake for the kids to share.
As for now this moment was to be quite sad… Even though we had a lot of maintenance to do on Take Off it was nothing compared to Heidi. When they made the service on their engine, it showed that their sail drive had to be changed! Even though there is a Volvo Penta agent in Papeete, this does not mean they have all the spare parts in stock. After recognising the problem the conclusion was to order the spare part from Sweden and ship it to Papeete.
As on the 3rd of May the spare parts had still not been ordered according to the Volvo Penta in Papeete and none of us knew how long time this would take! So we decided to make our good byes for the moment crossing fingers Heidi would be able to catch up again very soon. However the goodbyes were not easy...
---