Visiting a local school, taking a swim by the Military base and last farewell dinner with the crew of Leg 1

Take Off
Jörgen Wennberg
Sun 17 Jan 2016 21:41
On Sunday morning 17th of January we got the privilege to visit a local school funded only by volunteers. The school system in Columbia is working very well on paper, however the reality is something else. Very little of the money that is meant to go for the school education does really go to what it's meant to be used for. So the parents have to pay for their children's schooling and according to the school director, many families cannot afford the fees as many as 49% of the children do not get access to school. World ARC has been raising money for this school for the second year helping the school for example to build the class room beside and buy the blue plastic small chairs. Our volunteer fee to visit the school was 20US / per person and we also bought nearly all the arts and crafts the kids had made to raise more money for their education. Louise came back to the boat with a beautiful blue handbag!
Andrew Bishop, The CEO of World Cruising Club, explained in Spanish to the kids who we were, that we are sailing 25,000 miles and that Sant Marta is our first stop.
World ARC kids with the Columbian class. Alex, Inez Ruben and Theo mixing with the Columbian kids.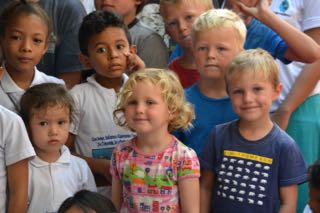 Andrew giving our check to the school director.
The school building and its surroundings.
After the visit we stopped at the military base to have an afternoon by the pool. According to the regulations, all kids had to wear a black swim cap. Inez' look was unbeatable!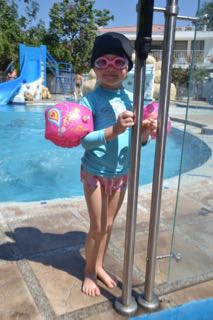 Sunday evening was our last evening with our crew of our First Leg 1: we had a great dinner at a restaurant on the street. Delicious, quick service and great fun! Thank you Zander and Pernilla for your great input by all means into our sailing our First Leg 1.
Will miss you a lot!!
---