Arriving in Mauritius

Take Off
Jörgen Wennberg
Sun 15 Oct 2017 03:16
In the morning of the 15th of October we are so happy as we know we will finally be in Mauritius today!
Last rigg check of this leg.
Happy kids to be on land soon.
Very happy to have had Pär with us.
On the 15th of October after 14 days at sea we finally see land!
We see Aurora that we have tried to sail pass since the start in Cocos Keeling, Only a few hours before the finishing line we finally managed to pass them haha….
More breaking news, or at least something to take care of before it really brakes.
While Jörgen was relaxing against the stern pushpit he felt that it was not holding…?
In fact the dinghy engine had been too heavy for the pushpit, especially as we have been leaning on the starboard side for 15 days in heavy sea, so the pushpit broke. We were extremely lucky we saw it in daylight. If not, we would probably have lost the engine...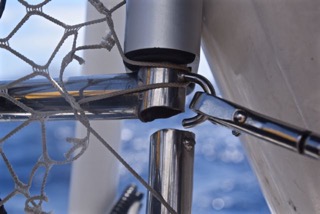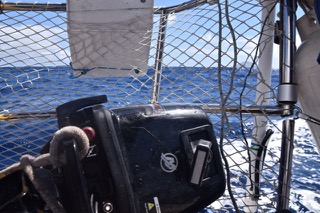 So while we are all focused on the broken pushpit taking pictures and trying to figure out what to do.. here comes now the most comic part of the whole sailing. We are all 5 totally focused on the pushpit that we did not experience the most spectacular scenery in front of our eyes. We just heard a hug big BANG! and thought for a moment that someone was shooting at us. We turned around and only saw this:
At the top right hand side of the picture you see that the water is a bit slack…. well we guess that it is the water flattening after a whale jumping. What we should have seen is this:
Yes indeed the BIG BANG was a whale that had just jumped only 50 meters away from our boat. We steared our eyes dry hoping to see another jump. After an hour we saw some movement on our starboard side and managed to take these pictures. Wow what a welcoming into Mauritius after 14 days at sea!
Once we approached Mauritius we turned down on the leeward side of the island and got a tremendous lovely spinnaker sailing in no waves. A T R U E P L E A S U R E ! And we saw some typical holiday activities.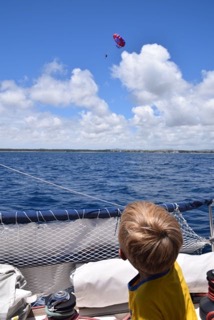 Enjoying Mauritius' skyline.
At 13h10 on the 15th of October we crossed the finishing line : a very very very very happy crew! The feeling is amazing. We have sailed one of the toughest seas there are to sail and it feels unreal that we have done it. We have stretched ourselves even more and after having sailed the Indian Ocean we feel very proud of ourselves! It was difficult to visualise what it would be like. Once you are in it, you are there and you make the best out of the situation. Once you have done it…. well that wasn't too bad... We did it! In other words, yes it was a challenge however once you've done it, it does not feel that difficult … because you've done it. Thank ourselves once again for another challenge stretching ourselves and making ourselves grow.
Coming closer into the marina.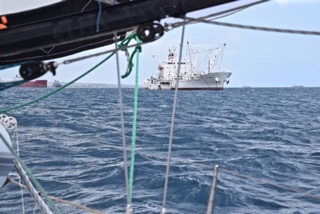 Coming into Caudan Bassin.
These 4 boats are from China and they apparently still serve as a refugee holding for people hoping to come into the country.
Happy Inez looking forward to ice cream!
Arrived in Caudan Bassin! Jörgen, Louise and Pär received a nice rum drink while Alex and Inez managed to match their clothing with their drinks haha… Alex for Sinalco and Inez for Fanta.
Victor going through what is needed to be done checking-in in Mauritius.
But before anything else this is what is to be done: C E L E B R A T E !!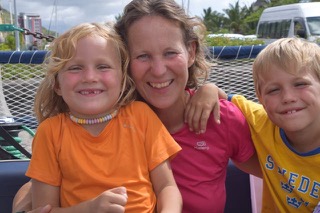 2 "skäggiga gubbar"!
Jörgen went of checking in while Louise is tidying the boat: having now 220V being in the marina , Louise brought out the induction heater in order to boil water so she could defrost the heavy ice clump in the fridge.
Thanks to the fact that we cut all our plastic garbage (fruits, vegetable and other natural waste go over board) this is our only garbage for 14 days with 3 adults and 2 kids!
Victor having fun "excercising" with Inez.
Some work to be done for the sailmaker: 2 spinnakers and a mail sail. As well as some laundry.
An hour later we welcomed "Aurora" into Caudan Bassin.
Another a few hours later we welcomed "Tulla Mhor".
Later on that night we welcomed "Owl".
The day after, on the 15th of October we welcomed more friends coming in - Sandvita. Off course the welcoming in into Mauritius is on "Sandvita"!
Anne and Lars on Sandvita. Jörgen and Pär.
Hans on Sandvita. Eileedh on Tulla Mhor. And lovely Gary on Sandvita.
Inez talking about all hour lost tooth over the oceans with Anne. Bob on Lexington. Louise. Bill on Owl.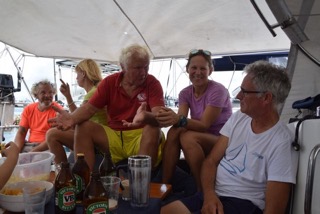 Jeff on Altair. Eileen on Aurora. Bob and Bill. Ken taking a voluntarily swim in Caudan Bassin!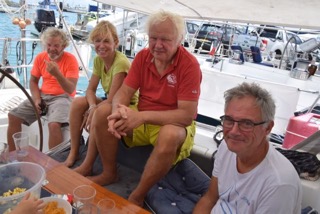 "Cesarina" coming in.
Jörgen receiving an aid kit to complete some glas fibre work on the rudder. A lovely couple from Norway giving away the glass fiber aid kit.
Caudan Bassin with the World Arc boats.
Take Off
---