Portsmouth on Dominica

Take Off
Jörgen Wennberg
Wed 4 Feb 2015 03:25
We started our stay at Portsmouth with a girl's walk up to Fort Shirley and to the top of the hill. A lovely chatty and laughy girls walk!
With Dutch Simone from 99 Bottles and Canadian Isabelle from Morning Haze ;-)
In the afternoon it was the rest of the family's turn to vist the Fort Shirley with a museum of Dominica's geography and history.
Sundowner and this time pancake dinner for the kids on 99 Bottles.
The day after we visited Portsmouth. Alex and Inez talking in English (!) to a Dominican girl.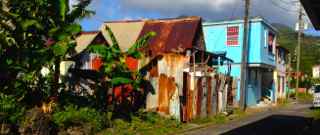 This evening I found THE PLACE IN THE WEST INDIES!! A little bar with its feet on the beach owned by a guy called Felix, "Felix Bar". I sat here all by myself enjoying the sunset while reading my mails and drinking a rum punch. The view and simplicity of the bar and the owner Felix made that I totally fell in love with the place! More photos to come…
---