Ormos Vourkari - Nisos Kea 37:40.0N 24:19.6E

Ticketeeboo
Sue & Alan
Sun 6 May 2018 08:00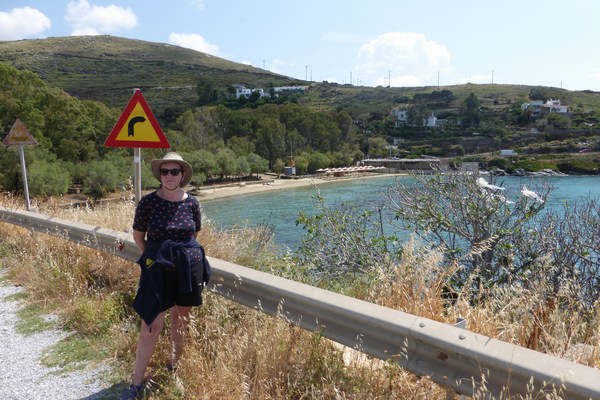 ​Being anchored off the quayside is much safer than getting mixed-up with charter boat missiles trying to berth sterns-to on the town quay. It is entertaining to watch though.
We enjoyed lovely few days. Went ashore on Sunday to watch the match. Went to each taverna and coffee bar enquiring if they had football on TV. It turned out they didn't even have TV so missed the match, which turned out was worth missing and enjoyed some of the best baby squid, pork and chips ever. Went for a poodle in RIB round the bay before sunset and just got settled back on Ticketeeboo when the heavens opened. Thunder and lightning and beaucoup de rain all night. Next day it took me several minutes to bale-out the RIB so that we could take bikes ashore for cycle over to Korissia and Ormos Livadhi as well round the bay. We were also going to get the bus up to the Kiea Chora/village. There was no bus (to early in the season) and the road proved too steep for Sue's little legs.
When we returned to Ticketeeboo a yacht called Nikitoo had dropped their hook close by. They kindly invited us on board for rum punches and a chat. We also ate ashore with them and ended-up 'crawling' into bed at 1 o'clock, smissed as parts. An excellent evening with Marianna & Hugh, there skipper, hostess and friends from Bulgaria. Lovely new Oyster 625 - much bigger that we!
Wednesday morning and we're heading south towards Nisos Kithnos.
xxx
---