Fwd: Levkas Town Quay 38:50.1N 20:42.7E

Ticketeeboo
Sue & Alan
Sun 3 Jun 2012 16:17
The good news is, Sue's now on board again, very happy and fully satisfied! Even brought all the spares out with her, despite Selden demonstrating an inept ability to supply what was requested in the first place. We have the parts now though so alls well that ends happy.
Jean & Christiane Metz visited Lefkas overnight last Friday and we had a lovely 24 hours, few beers, G&T's and vinos to help put the world to rights. JOhn isplaced his right shoe in a local shoe-shop and we all had a good laugh at the timer. Imagine being in a shoe shop with someone who can't find both shoes they had on when they entered the shop? If Sue had been there her immediate words would have been "Alan, where have you put Jean's shoe?"
Sadly Way Point Sails have let me (now us) down with the genoa. Despite promising me the genoa back, last Friday at 5 p.m. I had been visiting their workshop nearly every day last week, sometimes three time on one day and when I visited them at 7.30 p.m. last Friday, they seemed to had just taken it out of the bag and Nikos said "Very busy. Next Friday!" I understand next Friday is next Friday last Friday, nevertheless it's important to exercise restraint when people let you down, particularly when there's not much choice and you want your genoa fixing properly. Good job we have a wonderful jib eh?
All credit to Metronix, as well as an electronics and electrical specialists they are approved Raymarine agents.
www.metronix-gr.eu
. Dieter  promised me the radar radome back, like new, by Friday and he delivered. Dieter is Austrian. Dieter & Demetri make a great team.
Now the boss is on board I have to behave properly, well only when Sue insists. Hired a car so with the intention of doing a Lidle shop in the morning. No chance because it's a Greek Public Holiday tomorrow. Also, tried to get some bubbly from the local supermarket this morning. No chance it was closed. Hence, Sue & I settled on G&T's 'en lit' this afternoon. Quite novel without bubbles.
My little yacht-alone passage Kemer towards Lefkas is now complete. 729NM. 3 weeks. The material cost: one part Selden furler. One Hood genoa sail repair.  One Raymarine radome repair. One masthead light. One port for'd tank diesel and some odds and sods. An absolutely brilliant time and totally worth while. Yes I've missed Sue being with me this past month and yes I've missed seeing Freya, our new Granddaughter's first few weeks. I'll have the chance to make these things up though. Very grateful to Sue, family and some wonderful friends, for keeping in close touch. So much so, I never felt truly alone ant any of the time. What a great Tuna too!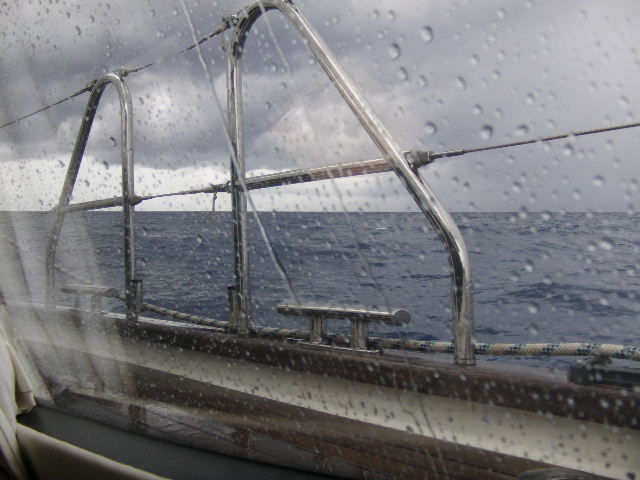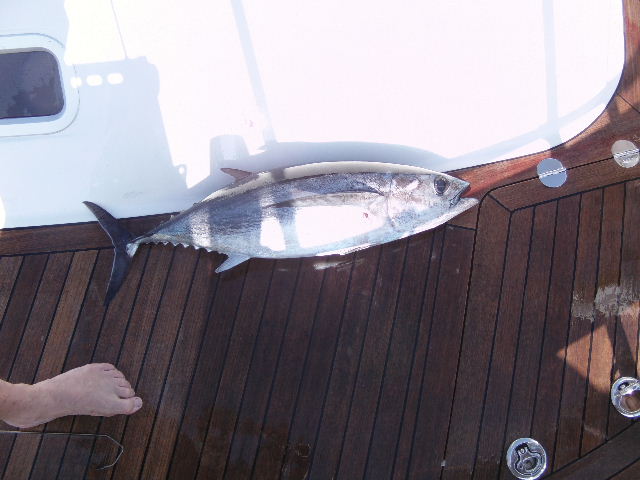 ---