Marie Galante

Anastasia
Phil May and Andrea Twigg
Sun 9 Jun 2019 00:14
Marie Galante is a part of the Guadeloupe group of islands and, like Les Saintes, it is different and unique. It has never been developed for tourism, has no large hotels and some of the small ones differentiate themselves by advertising that they have hot water. Having said that, it is still a part of France and you can buy anything you need at a fairly large Super-U within walking distance from the main anchorage. There is a shop selling fresh bread and paninis for lunch right next to the dock. There is a daily ferry service from Guadeloupe, whose arrival and departure made the only swell we felt for the week we were anchored here.
Why stay a week? Take a look at the view.
The beach is miles long and almost deserted. Walking along it feels like a real tropical island. The trees come down to the waters edge in places. Land crabs scuttle back to hide as you walk past.
The water around Anastasia was crystal clear. No problem making water at anchor.
We rented a car and toured the island. The major industry is sugar cane, obviously for a large flat island, but it was also a source of indigo to Europe in the time when dyes were made naturally. Indigo plants grow wild in the hedgerows.
The rum distillery (Distillerie Bielle) we visited has their own mill for the sugar cane. It was working when we visited, a digger forking cane onto the conveyor belt headed for the crusher.
There is quite a history of machinery in the yard, some for visitors and some more functional.
Look carefully and you see that some enterprising local engineer ran cables from the wheel to support the rotting timbers of the tower behind. We just came out of that door. Health and safety?
Another stop on the tour was L'Habitation Murât, a partially restored sugar plantation. Here we learned that moulin is not, in fact, windmill as Le Moulin Rouge would suggest. The low structure Andrea is striding towards is the moulin à bêtes, literally the "beast mill", although they used oxen rather than any old beast. The windmill on the left was built later.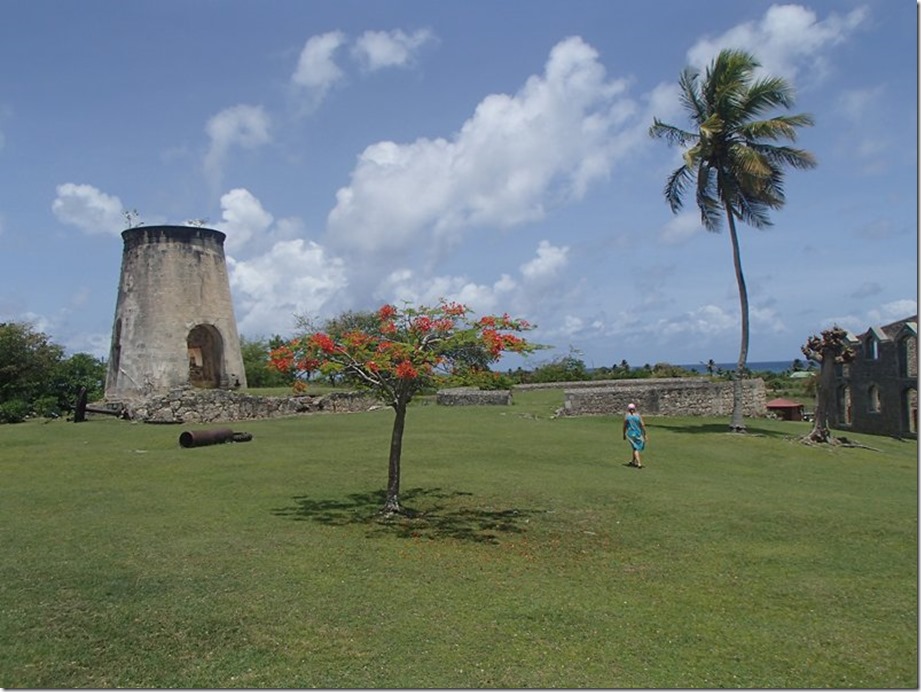 The house was pretty much derelict.
It has now been restored to its former glory.
On the way home Andrea suggested we stop for a break at Anse de Mays (the Mays bay)
And finally back to Anastasia for cocktails while we watched the sun set behind Guadeloupe.
---