St Thomas, US Virgin Islands

Anastasia
Phil May and Andrea Twigg
Mon 16 Jun 2014 23:22
18:19.4N 64:57.3W
The main port in St Thomas is called Charlotte Amalie. There are a couple of anchorages close in to town, but they are right by the main ship channel and so disturbed by the wake from passing ships. Even so, we anchored outside Crown Bay Marina for a couple of nights, to visit the gourmet supermarket there (aged Cruzan rum for $8 a litre) and get some repairs done to the trampoline.
Andrea had a fun day of knotwork and engraving, which she said sounded just like being on a craft workshop back at home. The only difference was that the knotwork was tying 50 finger-blistering knots along the front of the trampoline. (I rather conveniently did my back in while untying the knots, so couldn't help her with the re-knotting.) The engraving involved the use of her Dremel to cut the new UK registration number into the back of the boat (when the US Coastguards boarded us in Puerto Rico they asked us to show them where it was engraved).
Then we moved further out to anchor in Honeymoon Bay, which is a much more pleasant place to hang out.
The Honeymoon Bay anchorage is flanked by a beach with a bar that sells tasty frozen cocktails
The view here is better than being anchored in by the town dock
Although you are still disturbed occasionally by some passing monstrosity
But some of the passing vessels have amusement value. How can you make a shed float?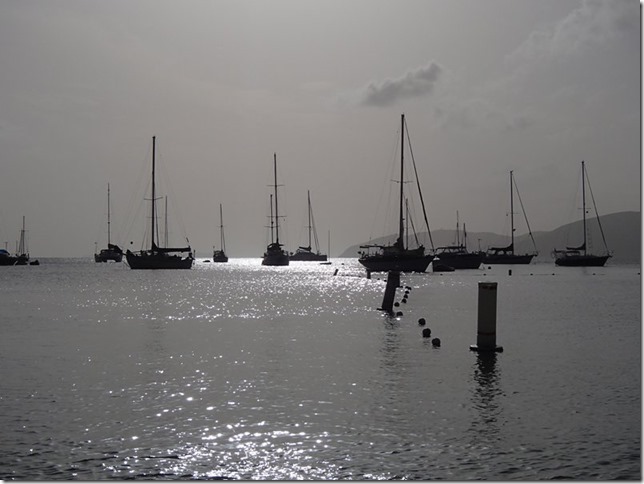 The anchorage is a bit crowded with local moorings, but there is space if you have plenty of anchor chain
---