Visiting family

Anastasia
Phil May and Andrea Twigg
Sun 2 Aug 2015 01:29
With Anastasia tucked up in Port Louis marina it was time for our quick visit to the UK to handle exchange of contracts and do some house hunting for a new place to live. We were fairly confident of the sale, having a written agreement with one purchaser, plus a backup purchaser who was very keen ("Can I move in in six weeks") should the first deal fall through for any reason.
But this house just does not want to be sold. The first purchaser reneged on their agreed position of not having to sell their house before contract exchange. The backup purchaser went off to sort out the financing and then decided he wanted to find somewhere smaller.
Faced with flying back to Grenada with nothing to show for our trip, we decided to extend our stay. That gave us time to visit the family and do some maintenance work on the house.
We met up with Bertie and Estella in Greenwich, which is where they are living now.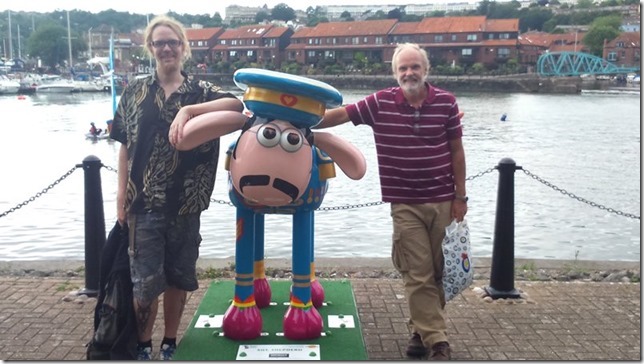 Chris is now living in Bristol. We walked around the city admiring the various Shawn the Sheep figures. This one is "Sgt Shepherd".
While wandering through Bristol we happened upon "Girl with a Pierced Eardrum" a genuine Banksy on a wall in a back alley. Her earring is a burglar alarm.
We took Andrea's mum and Stuart to see a Japanese garden near Newquay
---