Charlotte Amalie

Anastasia
Phil May and Andrea Twigg
Wed 4 Mar 2015 14:59
18:19.9N 64:56.0W
Places should be given names that are a single word, otherwise they end up sounding like the name of a person or a boat. Georgetown for example, or Amalienborg, which is how the Danes chose to name the capital of St Thomas, in honour of queen Charlotte Amalie. The town remained sensibly named until 1921 when the Americans changed the name to St Thomas. That was clearly confusing (imagine renaming London to England, almost as silly as New York, New York) so in 1936 they changed it again, but not to Amalietown, which would have been the logical choice, but to Charlotte Amalie. (Andrea wants me to point out that she thinks I am just ranting and that Charlotte Amalie is a perfectly sensible name for a town.)
The town is as schizophrenic as its name. At one end it has a commercial port and all the associated trade shops. The other end caters to the incessant stream of cruise ships that come to visit. Between the two is the seaplane port and the nouveau-chique French Town, which has a couple of decent restaurants.
Whatever you might think of the town, the diversity does mean that it is a good stop for cruisers because you can find pretty much whatever you need here. I got a new underwater camera (to replace the one that had irreparably corroded) at a price better than I could find on Amazon. We visited Kmart for new swimming shorts etc. The Pueblo supermarket usually has a good stock, plus there is a Gourmet Gallery at Crown Bay marina to restock on any special items.
The main anchorage can be a bit uncomfortable. There is a lot of wake during the day from the passing cruise ship ferries and if there is any southerly swell then this reflects off the seawall, making jerky standing waves across the harbour. If we are staying for any length of time then we anchor in Honeymoon Bay, which is a bit inconvenient for the town but a more pleasant anchorage, with water you can swim in.
What we did find on this visit is a hidden gem, Hassel Island. Not exactly hidden, since it sits right in the middle of the bay, but hidden because it is an unexploited piece of history. It has the remains of an old battery, officers quarters, the barracks from a slave regiment, an old shipyard, a leper colony, wharves for coaling the visiting steamships. All this is disappearing under the overgrowth, but there is a trail around the island and placards to tell you what you are looking at. We spent three afternoons walking around the island and only met a couple of other people on the trail. It also has a hidden bay you can dinghy around to for some snorkelling. Well worth stopping by if you are visiting St Thomas.
Anastasia in the main anchorage, viewed from Hassel Island
The remains of the old steam railway they used for hauling out ships
Andrea was particularly interested in the old machinery. Fortunately the cogs were too big to add to her collection
The officers had the best location, with a breezy site overlooking the main island
Hidden bay on Hassel Island, one of the few snorkel sites we could find near Charlotte Amalie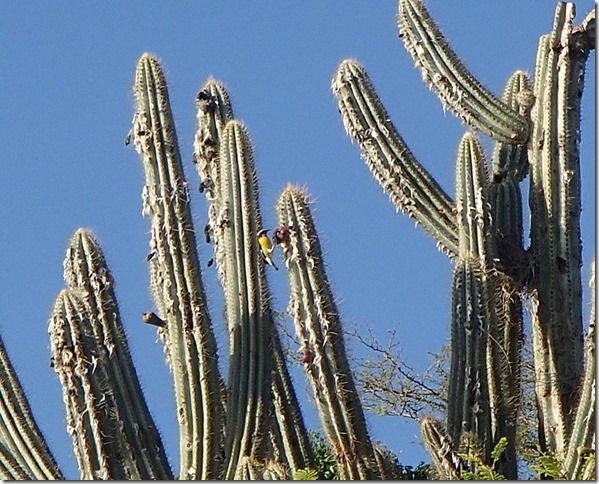 Not many bananas around here, so the Bananaquits eat the cactus fruit instead
---