Conception Island

Anastasia
Phil May and Andrea Twigg
Sat 3 May 2014 17:09
23:51.05N 75:07.24W
Conception is a true jewel of an island. Our plan was just to stop over on our journey east, but we ended up staying five days here.
It is another natural park, but much less visited than the popular Exumas Land and Sea park. There are no official trails, but we found one leading along the Atlantic shoreline, marked by the occasional fishing buoys, with flotsam ropes tied to trees to help you climb the steeper parts of the trail.
The snorkelling is good, even just swimming off the shore, and there is a three mile long reef extending north for serious divers. What we found most attractive was the clifftop path that gave you views of the mangrove-lined interior of the island and occasionally dipped down to secluded bays with pink sand beaches.
The start of the trail is up to the top of the cliff. The rope is a bit frayed, but serviceable
The path is not maintained, there is a lot of pushing through tight spots
A good view of the mangrove swamps in the island's interior
Absolutely stunning beaches. This could be the South Pacific
More turquoise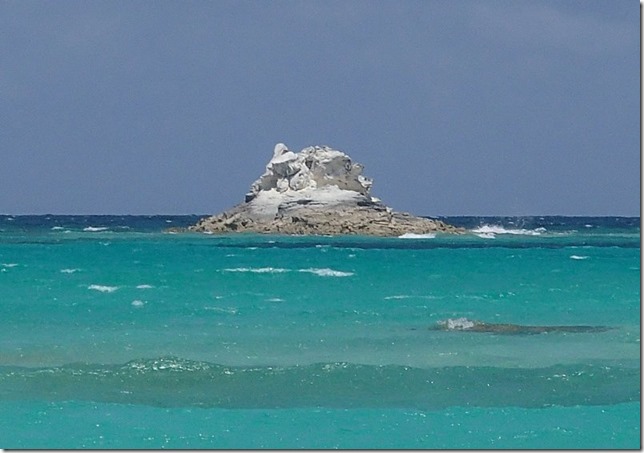 Natural sculptures
Not much of a house but great location
The wrecks of old wooden boats litter the reef along the Atlantic shoreline
This little guy followed us down the trail until we left his territory, singing energetically all the time
Plenty of fish to see when snorkelling (Rock Hind grouper)
Sometimes the clouds develop cones poking out from the bottom. These funnels are caused by mini cyclones.
---