Getting ready to move

Anastasia
Phil May and Andrea Twigg
Thu 5 Nov 2015 23:34
The hurricane season is over and it is time for us to tear ourselves away from the cruiser community in Prickly Bay and head north once more. The plan is to leave Anastasia in Antigua for a couple of months over Christmas and then cruise through the Bahamas and head up the east coast of the US for the summer. We will do one last hash on Saturday, go to a dinghy concert on Sunday, and Andrea will have one last yoga session on Monday, which means we will probably leave Grenada on Tuesday (Depending on the weather, of course. Today it has been raining all afternoon, which is fairly unusual for tropical rain.)
We will probably stop at the Tobago Cays for a few days to get some practice on Andrea's new windsurfer (which we heard about on the radio net in "Treasures of the Bilge").
Before we set off, we are having to deal with the fallout of spending three months anchored in one spot. Anastasia's bottom is relatively easy to clean, because the Coppercoat underseal prevents any hard growth from attaching and so we just have to scrape off a layer of weed and sponges. The anchor chain and propellers are a different story, with a mass of barnacles, limpets and oysters making it a laborious task. Our usual paint scraper was not up to the task. The blade snapped in two. I ended up chipping off the encrustations with a flathead screwdriver.
Yesterday we played Prickly Bay "Big Bingo". Bingo itself can be rather boring, but the Prickly Bay variety has "dance offs" in the event of a tie, and the main prizes are farm animals, which livens things up a bit. Firstly I had to dance off against three other guys to win a pizza (I will do quite a lot for a free pizza), but the big surprise was that we won the main raffle prize, a "flock" of sheep. Actually just two sheep, but still a significant prize, although not very practical when you live on a boat. Less manageable than a dog, I would think. And imagine the problems of trying to clear through customs with a pair of pet sheep. Anyway, I was surprised at how popular the sheep were. As soon as I left the stage I was accosted by locals wanting to buy my sheep. Well, mostly they just wanted the kid. I guess the mother would be a bit tough.
The marina has its own butchers shop, "Le Boucher", so we could probably have had the sheep slaughtered, but fortunately the marina operates a "buy back" policy for cruisers who don't have space in their freezers to store all the meat from two sheep. Darren, the marina manager, has offered to buy them back for $400 EC (about £100) which seems like a reasonable deal to get them off my hands. Meanwhile they are tied up next to the volleyball pitch.
Here is my flock of sheep. They might have been tasty.
Are you my mommy??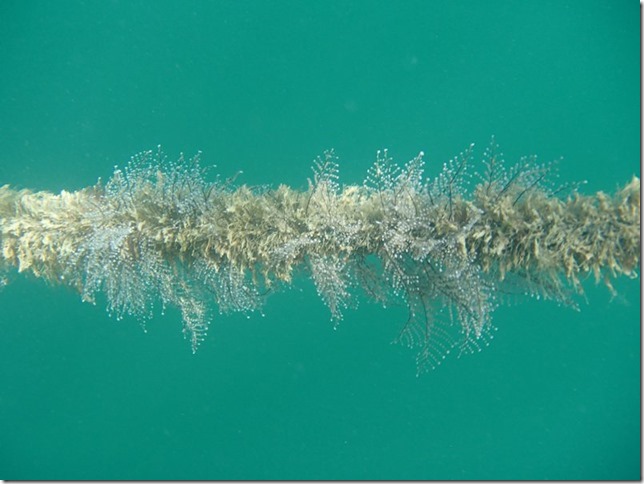 There is an anchor chain in there somewhere
Spot the propeller. This is after just three months. You can see why it is hard to find a shipwreck after 100 years.
So colourful, it almost seems a shame to scrape it all off.
---