Atlantis Hotel and Marina

Anastasia
Phil May and Andrea Twigg
Sun 7 Jul 2013 03:43
Today we went for a dinghy ride across the harbour to visit the Atlantis Hotel, which is one of the major tourist attractions in Nassau. They have a water park there which we thought we would visit, until we discovered that admission was $140 per person! It doesn't make a lot of sense when, through the web site, you can book a room for the night for $199, which includes free drinks and park admission for two people.
Anyway we contented ourselves with just walking around the hotel. It is all very Disneyesque. The casino has some impressive Chihouli glass sculptures. We walked along the beach and came to the One and Only Ocean Club, which is the hotel with the turning circle that James Bond drives around in Casino Royale.
Walking back along the beach we cut back through the Atlantis Hotel and found ourselves on the inside of a part of the water park, which was surprising because we didn't climb over any security gates to get there. Anyway Andrea decided to have a go on the River Ride, despite being fully clothed. Then we visited the "predator tunnel" to look at the sharks, before returning to the tender.
As for this evening's trip to the casino, well Alex needs to stick with his studies and I should just stay away from casinos (which I already knew).
The view of the Atlantis as you enter the marina area
Some impressive Chihouli artwork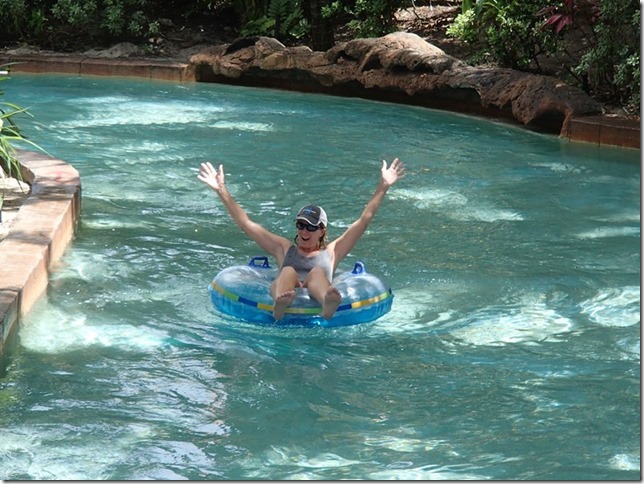 Nothing feels quite so good as a free ride
On our way out of the marina we found this tunnel under the waterfalls
---