Pigeon Island, Guadeloupe

Anastasia
Phil May and Andrea Twigg
Thu 28 May 2015 00:14
16:10.3N 61:46.8W
We did an overnight run from St Martin to Guadeloupe, although we cheated and picked up a mooring ball in Nevis for a few hours to get some sleep. The wind died away in the morning and we ended up motoring for several hours to reach Deshaies. The port engine stalled when I throttled back ready to drop the anchor. That was the beginning of an ongoing engine saga.
Deshaies is a good place to clear in to Guadeloupe and do some minor provisioning, but we wanted to visit somewhere different so we headed down the coast a short way to Pigeon Island, the home of the Jacques Cousteau marine park.
The port engine would not start at all this time, so once again we were anchoring with one engine. You get the hang of anchoring on a diagonal, using the wind to twist the bows in one direction balanced with the counter-twist from reversing with the single engine. You do get some funny looks as you prepare to drop the anchor, because you have to be pointing in the opposite direction to the other anchored boats. This is so that when you first reverse the single engine you can let the boat spin through 180 degrees and end up laying the anchor in the right direction.
The snorkelling round Pigeon Island is good, although you will have to share the sites with a lot of divers from the numerous dive shops in the area. We decided to swim right round the island, which was a bit further than it looked. We got a good workout although, to be honest, the best snorkelling is right by dinghy mooring balls.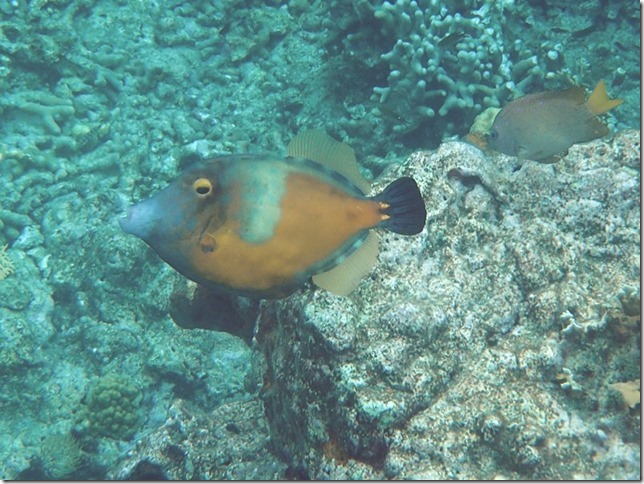 The white spotted filefish can choose when to show off their spots
The black durgon has pretty marking round its eyes
---