Plymouth, MA

Anastasia
Phil May and Andrea Twigg
Fri 2 Aug 2013 23:42
41:57.7N 70:39.9W
Our cruising guide says that moorings at Plymouth are on a first come first served basis, but that the author had never had a problem finding one. Arriving at 6pm, we called everyone who provides moorings but there was no space available. We found a couple of unused moorings at the outer entrance to the harbour and called up the harbourmaster to ask if we could pick one up. He said Anastasia was too big for those moorings. He asked us to wait a while and eventually allocated "Mario's mooring" to us, which is right inside the harbour, in the middle of the fishing fleet.
So here we are, once again a swan amongst ducklings at the heart of Plymouth harbour. To cap it all, the harbourmaster said they can't charge us for the mooring because it is a private one. We fell on our feet once more.
We spent the day looking around historic Plymouth (with Andrea spending all the money we saved on the mooring ball). The only downside was that the Mayflower replica is in dry dock for repairs, so we could not look around it.
Is this mooring ball number 1620?
The first church in the US (well, version 5 thereof, after all the others burned down)
Anastasia, viewed from the pilgrims cemetery
A terrapin that was just wandering around by the walkway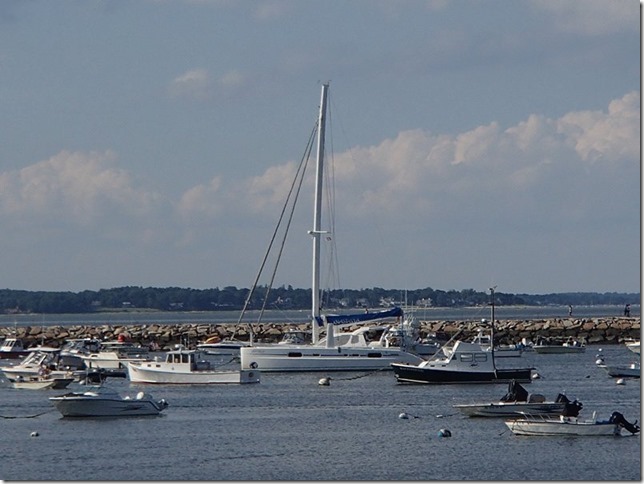 Anastasia nestled amongst the little fishing boats
Pilgrim Belle cruising around the harbour
---