Martha's Vineyard

Anastasia
Phil May and Andrea Twigg
Sat 7 Sep 2013 00:21
41:27.5N 70:35.6W
We sent several days at Martha's Vineyard, firstly anchored at Vineyard Haven and then anchored at Edgartown. There is plenty of room in the anchorages and good holding.
In Martha's Vineyard we met up with a friend of Camilla's, Mary Jo, who lives on the island and who kindly volunteered to show us around.
Our first trip was straight in at the deep end, quite literally, with a clamming expedition to Mary Jo's favourite clamming spot. There were plenty of clams to be had, although the best were to be found in waist deep water, so we all got quite wet.
We ate the clam's at Carol's, a friend of Mary Jo's who was renting a house on the island. Carol made time to prepare and cook the clams, despite having to pack and leave for home the next morning.
Another of Mary Jo's friends, Tim, took us on a visit to see the island's Alpaca farm. We also took a bus to the other end of the island to visit the cliffs, lighthouse and Indian reservation at Gay Head. Camilla and I then visited the "Gingerbread Houses" in Oak Bluffs while Andrea went beachcombing.
View of Vineyard Haven town from the anchorage
Mary Jo and Tim visiting Anastasia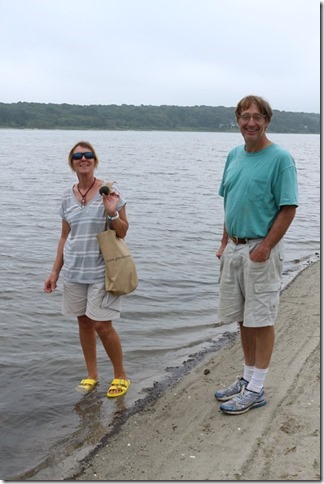 Andrea before she got really stuck in to the clamming
New baby at the Alpaca farm
With mum
A Wampanoag Indian lady demonstrating basket weaving at Gay Head
Gay Head lighthouse, which they are planning to move back from the cliff edge due to erosion
Camilla up the lighthouse
The cliffs at Gay Head are allegedly stained red by the giant Moshup flinging whales against the cliffs to kill them before he ate them.
The Methodist campsite at Martha's Vineyard evolved into these "gingerbread cottages", far removed from the original tents.
An exhilarating sail from Martha's Vineyard to New Bedford. We passed this guy doing 10 knots in the narrow Woods Hole gap through the Elizabeth islands.
---