Back to Boston

Anastasia
Phil May and Andrea Twigg
Tue 27 Aug 2013 23:50
42:21.5N 71:02.7W
We arrived in Boston on the 28th, ready to pick up Camilla from Logan airport on the 29th. Camilla is a friend visiting for a couple of weeks.
We took the water taxi from the airport so Camilla could get a view of Anastasia moored under the skyscrapers as we approached the dock at Long Wharf.
This time in Boston, as well as the obligatory Duck tour and visits to Quincy market and the Cheers bar, we also visited the aquarium and went on a whale watching trip (sans whales). We were lucky enough to be walking past the new Ice Bar on its first night of opening and that was an unexpected new experience.
The Boston mooring at night
Superyacht Salute's 75 metre mast dwarfs Anastasia's 22 metres.
Here comes Codzilla
Whalewatching in my new favourite T shirt "If I agreed with you we'd both be wrong"
Codzilla going for Anastasia now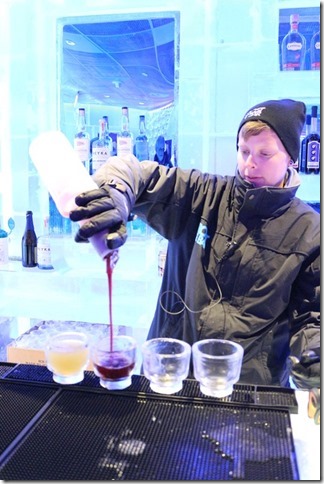 Barman in the ice bar
Everything is ice
The ice swan
Andrea in inappropriate footwear as usual
---