Warderick Wells Cay

Anastasia
Phil May and Andrea Twigg
Wed 3 Jul 2013 00:23
24:23.8N 76:37.9W
Warderick Wells is another island within the marine park, the site of the park's visitors centre. It provides beautifully sheltered moorings, even when the wind is from the south as it is currently.
This island has trails and signs to tell you what you are seeing. A collapsed pile of stones turns out to be the remains of the home of "loyalists", settlers loyal to the crown who were forced out of the US and took refuge in the Bahamas.
The park is a "no take" zone so Andrea could not collect the shells she found on the beach. She just had to take pictures instead.
We walked to the top of Booboo Hill, which is supposedly the sound made by the ghosts of the shipwrecked mariners that haunt the site. Many visiting boats have piled up driftwood here to mark their passage.
Andrea in the doorway of a loyalist house
The ground is covered with coffee beans??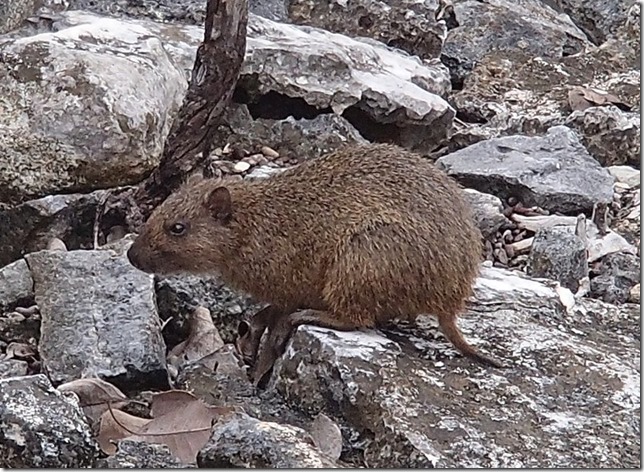 Or perhaps it is because the island is overrun by these guys (Hutia)
We were a bit concerned about owl attacks, but apparently the Owl was a houseboat sunk in a hurricane
Anastasia anchored by another deserted mooring field
Some of the shells Andrea could not collect
The pile of driftwood atop Booboo Hill
---