Georgetown

Anastasia
Phil May and Andrea Twigg
Fri 21 Jun 2013 22:56
23:31.1N 75:45.5W
We are now anchored in Elizabeth Harbour in a bay of Stocking Island just across from Georgetown on Great Exuma island.
Our entry to the harbour was by the East Passage. It was just as hairy as any reef passage in the Pacific, squeezing between coral heads with not much clearance either side. (Here in Georgetown we finally managed to get a copy of the "Explorer Chartbook of the Bahamas" which marks the entrance we took with a dotted line annotated "shallow coral near route" and recommends an easier entrance into the harbour.)
Georgetown is a small seaside town, quaint but a bit shabby at the edges. The supermarket is well-stocked, as is the hardware store. It is supposedly a mecca for cruisers in the winter, but there are only a few boats here right now. A couple off another catamaran (Cheval) stopped by to speak to us because of our French flag and gave us some useful information about where to go (to buy the charts) and what to do (take the path to the beach on the outside of the island).
They also recommended visiting some places en route to Nassau. Our original plan was to head to Nassau in a couple of overnight hops but it will be more relaxing to day sail along the Exuma Cays instead, so that is what we will do.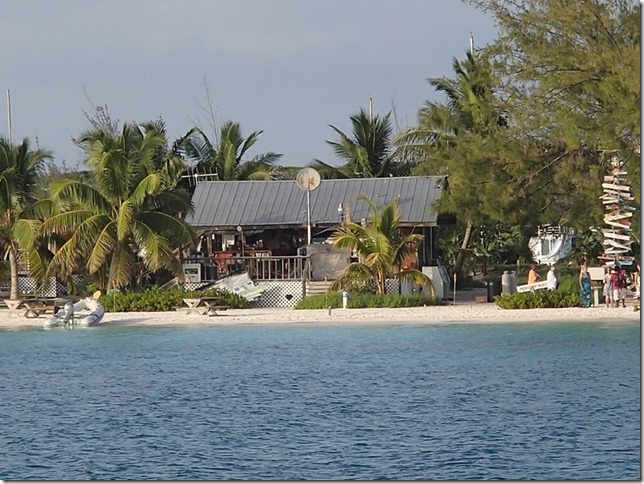 We are anchored off the "Chat 'n Chill Bar and Grill"
Take the path to the other side of Stocking Island and find miles of completely deserted beaches
---