St Helena

Anastasia
Phil May and Andrea Twigg
Sun 20 Jan 2013 13:42
15:55.0S 005:43.1W
St Helena is a strange mixture of various pieces of history. One claim to fame is obviously that Napoleon died here, but the island had a long history before and since then and snippets of that history are evident wherever you look. So much of the past has been preserved because this is one of the few places on earth you can't get to by aeroplane (until 2015 when the new airport is completed). That still doesn't explain why they have no mobile phone network and no credit card facilities (except at the bank). Even Cocos Keeling has a mobile phone network.
We took a tour around the island and saw the stark contrast between the rocky volcanic areas and the green pastureland with cattle and sheep. There is a lot of flax growing wild everywhere because at one time flax growing was a primary industry on the island, until man made fibres rendered flax obsolete.
The people are very friendly. They greet you as you pass in the street or wave as you pass in a car.
Jamestown is nestled in a valley on the western side of St Helena.
Like a scene from the Hobbit, the pastureland and villages contrasts with the wasteland in the background
The house where Napoleon died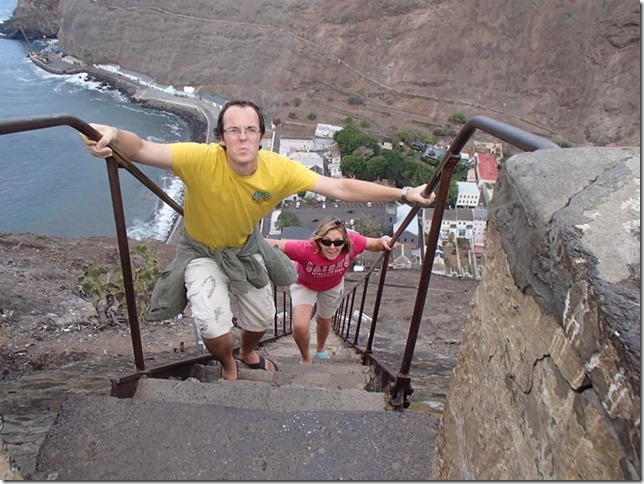 On our last day we did the obligatory trek up Jacob's Ladder, the 699 steps from Jamestown up to the fort overlooking it. An exhausting climb, but worth it for the view of the town. Here we are arriving at the top of the ladder.
---