Annapolis

Anastasia
Phil May and Andrea Twigg
Thu 25 Jul 2013 22:37
38:58.7N 76:28.8W
From Sarah Creek we day sailed up to Annapolis, anchoring at Jackson Creek (Deltaville) and Herring Bay on the way.
Jackson Creek was a very sheltered anchorage surrounded by big houses with lawns sweeping down to the water. The resident's dogs bark as you pass by and it feels like you are anchoring in their back garden.
Herring Bay is a wide open bay filled with jellyfish and masses of stingrays, although they are difficult to see because the Chesapeake bay has very green water. In fact the bay has a real problem with algae. Sailing up it we saw areas littered with dead fish. Apparently this is not caused by industrial pollution, the fish die through oxygen starvation caused by bacteria feeding on the dead algae blooms.
Arriving in Annapolis, we were going to pick up a mooring ball but they are all marked as "max 45 feet, violations $1000" so we anchored outside the naval academy instead. It rained a lot of the time we were there but still we spent a pleasant evening with Lew Wallner, who is in Annapolis working on Brizo at the weekends, fixing her up for their next voyage. When we got back to Anastasia that evening the wind had shifted and she had swung round into the (very edge of the) channel and we had received a parking violation notice.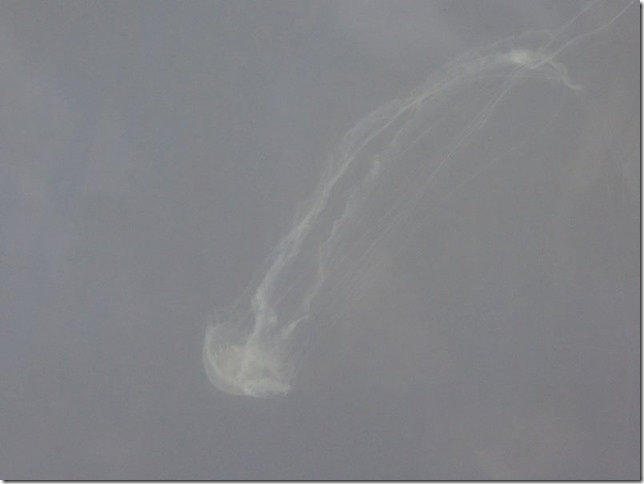 Jellyfish in Herring Bay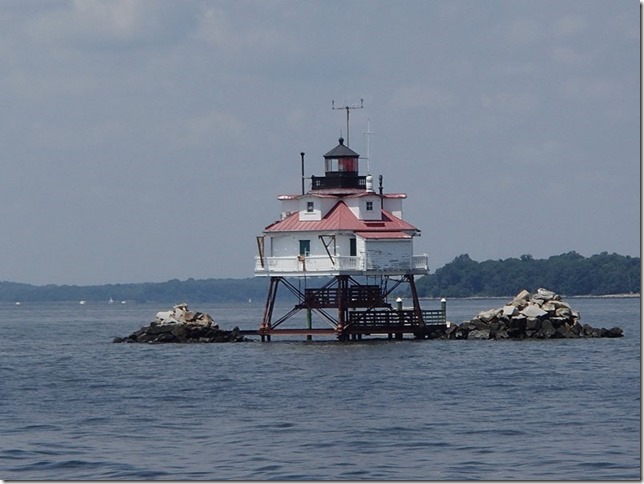 Thomas Point Shoal Lighthouse at the mouth of the Severn River (to Annapolis)
An Annapolis parking violation notice
---