Little Harbour and Lynyard Cay

Anastasia
Phil May and Andrea Twigg
Sun 6 Apr 2014 00:30
26:19.8N 76:59.8W
Little Harbour is the home of Pete's Pub, Foundry and Art Gallery. It is a convenient exit point for leaving the Abacos and head down to Eleuthera. However, it has a sand bar which would prevent us from leaving at low tide, and we need to leave then to have a chance of sailing the 55 miles to Eleuthera directly upwind. (The wind turns around in a couple of days with the next cold front, but it is predicted to be rough seas and 35 knots, so better to sail upwind against 8 to 10 knots).
Still, we anchored just outside the harbour to visit it over lunch (which also gave Andrea the chance for some more beachcombing) and then we moved over and anchored in the lee of Lynyard Cay nearby.
The plan was to spend the night at Lynyard and sail in the morning, but Andrea met someone who gave her directions to a beach on Lynyard where you could "shovel up sea-glass by the bucketload". She asked to stay for an extra day and so here we still are.
Little Harbour sign and art gallery
This one is for Sally – Andrea petting a "land ray"
Some amazing sculptures dotted around Pete's pub
While Andrea beachcombed I took a path to an old lighthouse, through a sea-grape jungle
Anastasia from the lighthouse, at anchor outside Little Harbour
The sun and sundowners gone down at Lynyard
Ready for a day of glass hunting
Crossing the Cay we came across a derelict shack with this amazing artwork (is that the Hope Town lighthouse at the top?)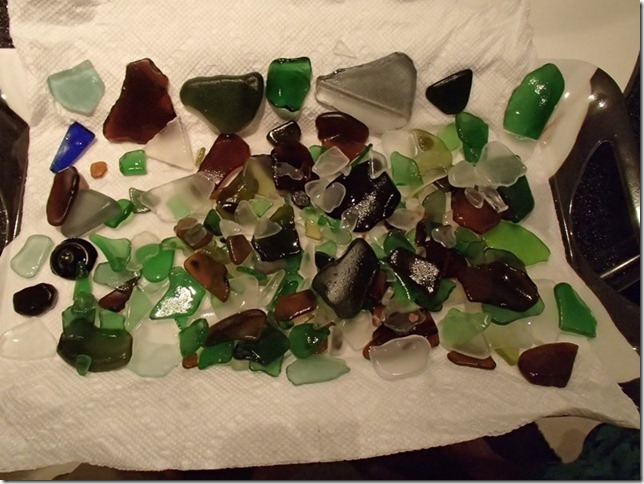 Andrea seems pleased with her haul, but I still think it would be easier to grab a couple of bottles and a hammer.
---