Goodbye Crab Creek

Anastasia
Phil May and Andrea Twigg
Mon 4 Nov 2013 21:33
It was sad to leave Crab Creek after our three week stay there, but the engines were finally fixed and we had no excuse to stay longer. The increasingly cold weather was a good reason to leave.
We managed to repair the saggy davits, with new aluminium cylinders purchased from speedymetals.com. These new inserts have half-inch walls and there is no way they will be sagging. Getting the davits back on was a challenge because the bolts on the satellite superstructure did not want to line up. In the end we used three of Anastasia's winches pulling in different directions to line up the bolt holes.
Fixing the engines was also bit more fraught than expected because when I took the starboard transmission off I found that the mounting plate was cracked in two places. Fortunately the Volvo dealer in Annapolis could get a replacement overnight and, from phoning them at 4pm on Wednesday, it arrived on Thursday morning together with the mechanics who came to replace the vibration dampers. Everything went smoothly and the engines were repaired six hours later.
The OCC port officers, Wolfgang and Gemma, invited us to a goodbye meal on Friday evening. Their OCC friends, Sid and Rebecca (Dovka) and Mike and Anne (Nimue) came along, plus Lew Wallner (Brizo) so it was a rousing sendoff (especially after a couple of Dark And Stormys).
Saturday we filled up with water and headed out of the Cheasapeake Bay.
Beautiful Crab Creek
Definitely getting a bit autumnal by the time we left
Preparing for another chilly evening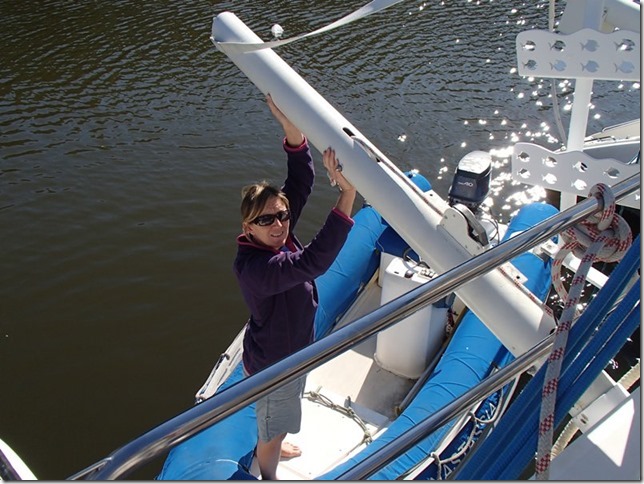 "Just hold that, love"
The old davit inserts were not up to the job. The slot someone cut in it didn't help the structural integrity either.
The vibration dampers were not up to the job either. The rubber just fell apart after a couple of years. Apparently the new ones will last much better.
Goodbye Gemma and Wolfgang
---