Mystic River

Anastasia
Phil May and Andrea Twigg
Fri 20 Sep 2013 01:02
It is not far from Block Island to Mystic and, given our late night of dragging yachts and honking horns, we did not set sail until about midday. I checked the Active Captain in the morning to look for an anchorage in Mystic but did not find any convenient ones. Instead I called Frank Bohlen, the OCC port officer for Mystic, and he suggested that we could tie up at his club (the Ram Island Yacht Club) for the night while we sorted out a mooring ball.
We arrived at the yacht club at about 4pm and tied Anastasia to the end of their dock. It felt a bit strange just tying up with noone around, but it wasn't long before club members started turning up and walking the dock to see who the new arrival was. They were all very welcoming and Dan, the dockmaster, kindly offered us mooring for a few nights while we looked around Mystic and Noank. (The Ram Island yacht club is actually in Noank, but it only takes 15 minutes to dinghy up to Mystic.) We spent a couple of pleasant evenings with the club members on the deck overlooking the river.
While moored there we visited Mystic Seaport, which is a historical village along the lines of Williamsburg. The seaport is was well worth a visit if you are in the area. They have demonstrations of all the old shipwright crafts (including a big rope making factory in which they are making traditional manilla rope for their whaling ship restoration project). Several of the demonstrations are preceded by a musician singing old sea shanties.
After our visit to the seaport we met up with Janet and Mark who treated us to an excellent dinner at the S&P Oyster Co restaurant. Then we all jumped into our tender and cruised back to At Last and Anastasia down the mystically quiet river under a full moon. It doesn't get any better.
Anastasia on the Ram Island YC dock
The schooner Mystic moored on the river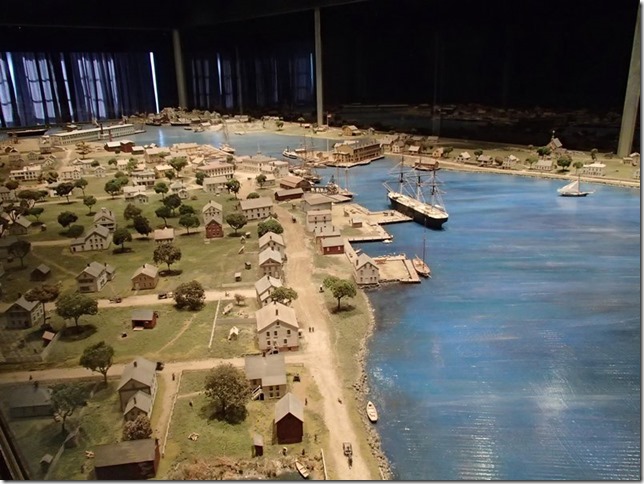 Room-sized model of the old Mystic Seaport.
Charles W. Morgan, the last wooden whaleship afloat, being restored at Mystic
Heading from the river up the hill to Noank there is a sign for those who might be confused about where the higher ground is!
---