Watermakers and traditional Martinique boats

Anastasia
Phil May and Andrea Twigg
Sat 23 Jul 2016 16:46
14:26.3N 60:53.1W
The trip from St Pierre to St Anne was the first time we needed to make water since leaving Antigua. Unfortunately the watermaker refused to start. All it produced was an acrid burning smell from the booster pump, which was completely seized up. Of course, the pump was located in the most inaccessible cranny possible. Twice I got stuck down the hole and Andrea had to come and help prise me out. In the end I just ripped out the pump's mounting screws with a crow-bar. The alternative was to break the bed apart to access it, which would then have required significant cosmetic repairs.
After taking the pump apart I decided that it was beyond repair and we needed a replacement. The good news was that pumps are available in Martinique. The inevitable bad news was that a pump available on the internet for £250 costs 750 Euros off the shelf at Caraibe Marine. OK, so it costs money to stock items in the Caribbean, but that kind of mark-up is just taking advantage.
It took a couple of days to replace the pump and get the watermaker operational again. Meanwhile we did get the opportunity to see a traditional Yole sailing boat exercising in the bay. These days these traditional yachts are mainly used in regattas and they merge the classic design with high-tech sails.
Traditional Yole boat, sporting a modified form of tri-radial sail construction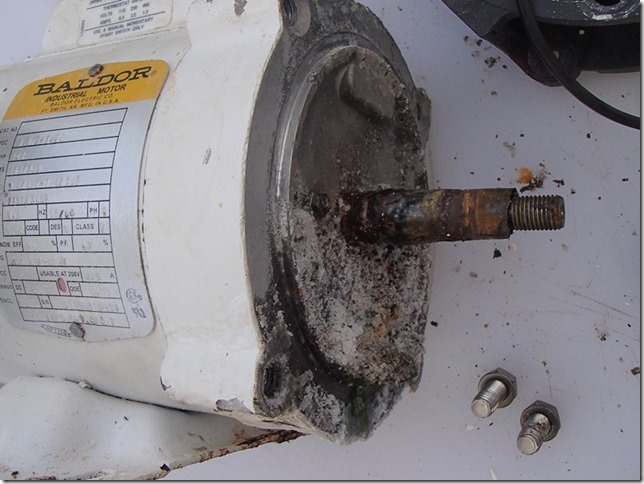 With this much water damage it is time to splash out on a new pump
---