The 27 waterfalls of the Damajagua

Anastasia
Phil May and Andrea Twigg
Thu 15 May 2014 17:00
If you are going to do any tour in Luperon then it has to be the trip to the Damajagua waterfalls. Even though there was not very much water flowing when we visited, there was still enough to do all the jumps (with your knees bent to cushion the impact on the bottom).
On the trail up to the top of the waterfalls our guide demonstrated a remarkable ability to imitate birds. He also pointed out many local plants (almond, soursop, lime, mango) and animals (snakes, lizards, crayfish). He showed us the fruit of the Gumbo-Limbo tree, which is eaten by the national bird of the DR, the Palmchat. (No, I am afraid we didn't see one Karsten.) He showed us Kapok trees, the trunks of which were used for making canoes, and the fluffy cotton surrounding the seeds which was used for making mattresses and pillows.
The trip down the waterfall was surprisingly challenging, with slides and jumps down into fairly small pools from up to 30 feet above.
It is a 40 minute hike up a well-made trail to get to the top
The team all ready to go (that is Marty and Lisa from True Colors on the left)
Fortunately there are a few small jumps to get warmed up
Andrea showing good form
The biggest jump is 30+ feet. Here the guide is showing me the patch of sunlight I have to hit down below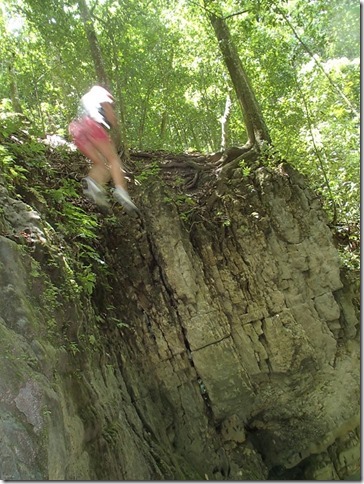 Andrea goes for it – and makes it.
Some of it is just drifting through canyons
Other bits are slides down rocky surfaces
A green tree snake
A crawfish in one of the waterfall ponds
---