Luperon, Dominican Republic

Anastasia
Phil May and Andrea Twigg
Fri 23 May 2014 17:37
Luperon is a very sheltered harbour, completely surrounded by hills, but even so you get a nice cooling breeze during the day. It is well protected from hurricanes and some people keep their boats here all year round. A retirement community for people whose pension cheques aren't as fat as they would like. It is a friendly place, both cruisers and locals. The officials are also friendly, provided that they get their "propinas". It is hard to call it extortion when they are happy to get a $10 "tip". The way I see it, in the Dominican Republic I paid $73 in official fees for checking in an out, plus about $60 total in propinas at both Luperon and Samana. How is that more extortionate that the $300 you pay for checking in to the Bahamas?
The household income in the Dominican Republic is extremely low, which means it is a good place to get any laborious work done. We weren't planning to spend much time in Luperon, but we had to wait a few days for a lull in the trade winds to let us continue our upwind passages. We had bought some canvas in Fort Pierce to make a cover for the outdoor table, but we decided that the dinghy cover was in such bad condition that patching it up would be a better use of the canvas. If we had thought, we would have bought enough canvas for a new cover to be made in Luperon.
I took a series of photos and used Google translate to write a description of the work I wanted doing in Spanish. Andrea proof read it and pointed out that I probably wanted to use "hilo" (thread on a needle) rather than "rosca" (thread on a screw). The work included replacing the tube around the entire border of the cover, probably a full days work to repair everything. Anywhere else and it would just not have been worth the effort, but in Luperon we got all the repairs done for $60. It is obviously not pristine, given the starting point, but probably got another couple of years of life in it.
The entrance to Luperon harbour is completely occluded by hills
Moored at the town pier is an eclectic mix of work and pleasure boats
After three years of tropical sun the dinghy cover is literally falling apart at the seams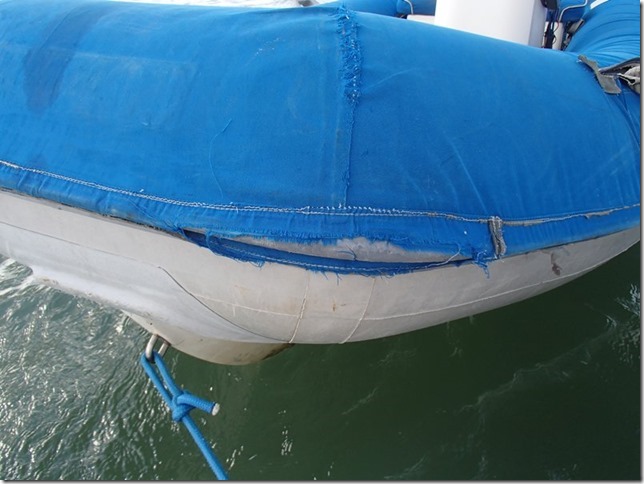 And worn around the edges
The stitching is so rotten the letters are falling off
But now it is all patched up
With a brand new border and bright new stitching down every seam
---