Big Hill, Kitesurfing and Starfish

Anastasia
Phil May and Andrea Twigg
Sun 14 Aug 2016 23:35
Back in Union Island we stopped off at the Frigate Island anchorage so I could get another kite surfing lesson from the JT Pro Center. We had to wait a couple of days for a good wind, which gave us the opportunity to hike up "Big Hill" and for Andrea to investigate the thousands of starfish in the bay.
This is what the locals call "Big Hill", a peak towering over Ashton harbour. The trail winds round the back of the mountain to the saddle and then along the ridge to the peak.
Great views from the top. Anastasia in the anchorage by Frigate Island, which is a great spot for windsurfing and kitesurfing.
A lot of work went into the construction of a 300 berth marina, but the company went bust before completing it.
Andrea discovered an interesting fact about starfish. I thought they always had 5 legs.
Apparently this is not a hard and fast rule. This one has six legs.
"Five legs good, four legs better".
Finally, some good wind for me to fly my kite. It was still an exhausting and bruising experience.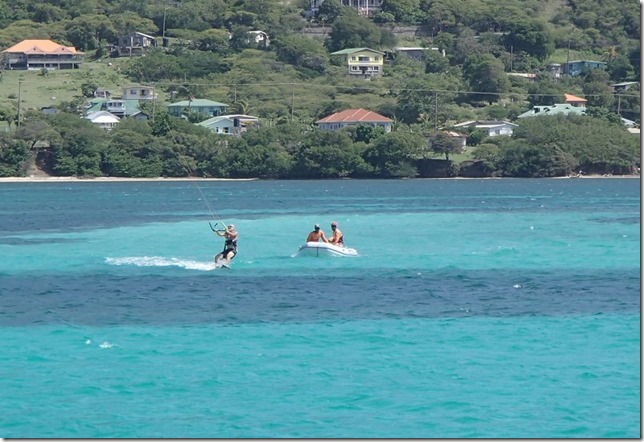 But this time I was managing to spend a bit more time out of the water.
---