Little Grand Cay and Hawksbill Cay

Anastasia
Phil May and Andrea Twigg
Sat 15 Mar 2014 00:10
26:55.9N 77:47.6W
After the excitement of getting the sail down everything has settled down to cruising pace. If we were back in Fort Pierce it would be "quick we need to fix the mainsail before we leave". Now we are back in the islands it is more a question of when can we be bothered going up the mast again to try and fix the problem. We still have the jib to sail with.
The official port of entry in this part of the Bahamas is Walkers Cay, but that island is difficult to access in strong winds. Instead I took the dinghy to nearby Little Grand Cay to find out what the options were. It turns out that the customs and immigration lady lives on Little Grand Cay and does not go over to Walkers in bad weather. The island telegraph kicked into gear and within minutes she appeared and checked us in on the spot.
Everyone on the island was remarkably friendly. The customs lady showed me to the bakery where I picked up some newly baked coconut tarts (like treacle tart but made with coconuts). After lunch we went for a walk round the island, which is densely populated for such a small strip of land. It has a school and a clinic, but the roads are concrete strips and everyone uses golf carts to get around. The neighbouring island, Grand Cay is much bigger but unpopulated.
It was a quiet night and in the morning we set sail (using just the jib now) for Hawksbill Cay, near Little Abaco Island. We started out with a brisk north-easterly which meant we could still do 7 knots, but gradually the wind veered eastward and we ended up motoring for the final hour. Still we arrived at 2:30 there was plenty of time for Andrea to take a walk on the beach. We saw a solitary turtle, don't know if it was a Hawksbill. Later on a guy called Max stopped by in his boat offering to sell us lobsters. Eight good sized lobsters for $20 seemed a reasonable offer, but he didn't have the lobsters, he was going to catch them on Hawksbill Cay.
Off he went and we saw him jumping off his boat at various points along the cay. Within half an hour he came back with nine lobsters, for which I gave him $24. He then showed us how to gut them. (Look away if you are squeamish! Break off an antenna, stick it up their bum thus detaching their anus and then rip off their head pulling their digestive tract out with it. Hey presto, one perfectly cleaned lobster tail.)
We had lobster for dinner. Half an hour from reef to plate. They don't come fresher than that. Things are looking up.
Little Grand Cay from Anastasia
Anastasia from Little Grand Cay
Fresh lobster tails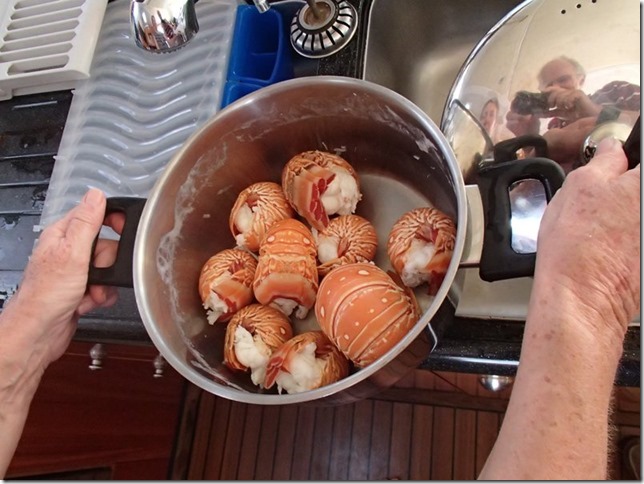 Ready for eating
Three each was enough, so it is lobster sandwiches for lunch tomorrow
---