The Quill - Volcanoes of the World #12

Anastasia
Phil May and Andrea Twigg
Sun 8 Feb 2015 18:21
It has been a standing joke for us, the descriptions of hikes in Doyle's cruising guides, and the trek into the crater of The Quill on St Eustatius is no exception. Doyle says "hiking is tranquil and easy on Statia", which doesn't quite capture those parts of the route that involve scrambling down giant boulders hanging on to fraying bits of rope.
The views from the rim are great, a very worthwhile hike up. You are greeted up there by a hungry chook waiting for you to break out the mid-morning snacks and drop some for him. Just don't drop anything too close to your toes or he will sample those as well.
The hike down into the crater is the challenging part, one of the challenges being to work out which boulder is the next step on the "trail". Down at the bottom the path just peters out. You are left standing in the middle of the jungle feeling somehow cheated because you expected the path to actually lead somewhere. Maybe a little pond in a clearing or, perhaps, an ancient tree. But it is just jungle all around, with a "you are here" sign telling you that you have reached the end of the trail. Still, it is easier to climb up the boulders, hanging on to the fraying rope, than it was to climb down them.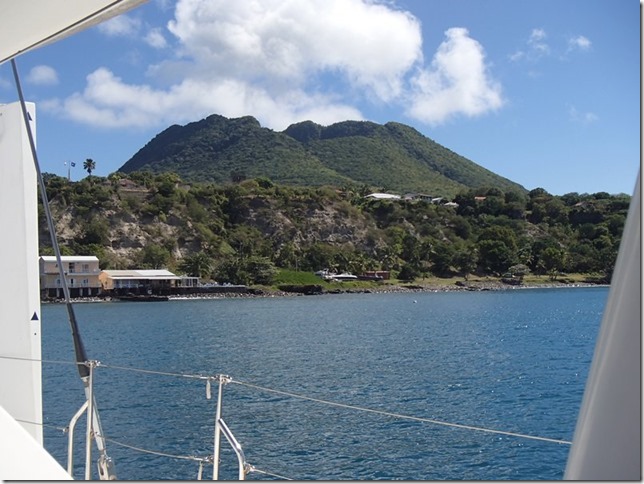 The volcano, just begging to be climbed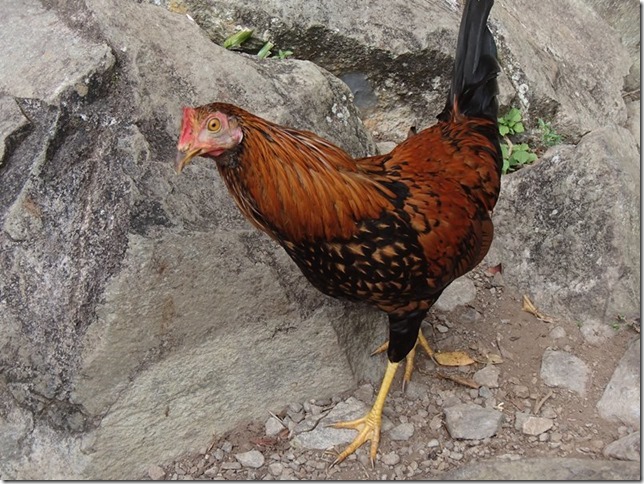 The chook, just begging for food
Great views of the island from the rim
There is Anastasia in the anchorage
Looking down into the crater
One of the rare spots on the crater trail where you could walk without using the rope
---