Tyrrel Bay, Carriacou

Anastasia
Phil May and Andrea Twigg
Sun 24 Aug 2014 14:44
12:27.5N 61:29.2W
Tyrrel Bay is another large sheltered bay with ample room for anchoring. There are several restaurants along the bay, including the popular pizza place, Lazy Turtle. It has surprisingly poor provisioning facilities for a fairly large town and anchorage. You can only get fresh vegetables on Saturday morning, otherwise you have to take a bus ride back to Hillsborough. Like many of these open bays, it can be rolly if the wind direction is anywhere north of east. We stayed for a couple of days and then went back round to Sandy Island to do some more snorkelling.
There is an interesting walk up to the top of the hill overlooking the bay, Chapeau Carre. Doyles Guide calls this a pleasant trek, which is true if you find a 45 degree slope covered in slippery leaf mould pleasant. I would classify it more as a challenging scramble, but the views are worth it.
View of Tyrrel Bay from the top of Chapeau Carre
Anastasia tucked in among the other boats
There is a mangrove hurricane hole by the bay, which is opened up when there is a storm coming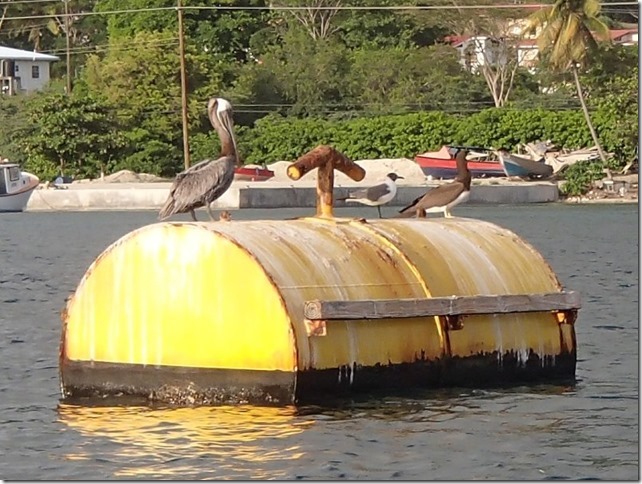 Three sentries keep watch over the anchorage
The path up Chapeau Carre was teeming with mating millipedes.
We saw several Morrocoy land turtles, some adult
and some cute babies
---