A different route past Guadeloupe

Anastasia
Phil May and Andrea Twigg
Wed 29 May 2019 23:51
With a bit of time to spare we decided to take a detour after Guadeloupe to visit Marie Galante. This is an island we had never been to because it is upwind from the normal route south. We are really glad we did so because it is a gem of an island.
First things first, we had to get there. Not relishing that feeling of not getting anywhere fast when tacking upwind and uptide, we decided to head up in stages
a leg from Deshaies to Les Saintes (and our favourite anchorage by Pain de Sucre)
a leg back to Guadeloupe, to Ilet du Gosier near Pointe a Pitre on the eastern side of Guadeloupe
a leg from there down to St Louis on Marie Galante.
I would recommend this approach to anyone wanting to visit Marie Galante. The only word of caution is that you should steer close to the wind when heading north-east from Les Saintes, regardless of the fact it feels like you could sail it on reach. The Guadeloupe mainland gradually turns the wind to the north as you approach
The Ilet du Gosier was interesting because we had never visited it before. The anchorage is in the lee of the island and is pretty calm if you can get a central spot. We started out anchoring between the island and the mainland behind a reef (the anchorage marked on the Navionics chart), but we moved from there after lunch because the reef does not do a great job of suppressing the swell.
Here is a view of the island from our lunch stop behind the reef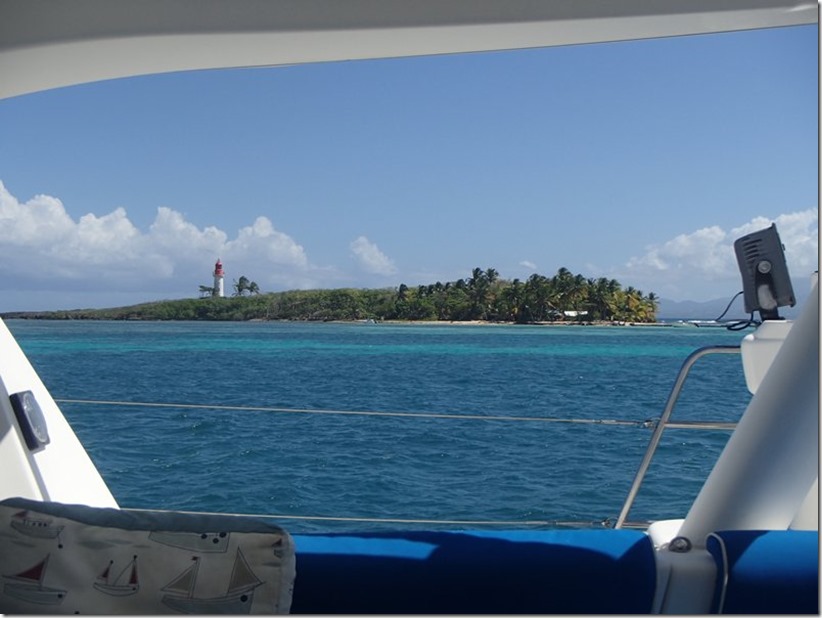 From the picture you might be forgiven for thinking that Gosier must be goose in French, but Google translate tells us it is Throat Island.
Someone decorated the lighthouse. At least it is a sea creature.
It was clear that the area around Ilet du Gosier is a major tourist destination. There were a lot of serious swimmers passing around the anchorage, towing inflated buoys to ensure they were visible to all passing boats.
There was also a major race of the local boats that passed by us, with some serious sponsorship by the looks of their sails.
---