Barbuda

Anastasia
Phil May and Andrea Twigg
Thu 29 Jan 2015 01:49
If you ever sail to Barbuda then the southern anchorages are the place to visit. The cruising guide might put you off because it says this area is for expert reef navigators, but it is really straightforward. The coral heads are obvious and you can judge the depth from the colour of the crystal clear water.
We anchored first at Grovenor bay, and that was our favourite spot. No WiFi, but calm waters and snorkelling on the coral heads. Then we moved to Coco Point, which was a bit more crowded due to the increased depth and the availability of WiFi. The water here is more cloudy and less flat. Finally we moved over to Low Bay, on the west side of the island. From here you can get a water taxi across the lagoon to the town of Codrington which is where we checked out of Antigua/Barbuda. There is a convenient beach bar where they will call a taxi for you and serve a drink while you wait.
If you are going to Codrington to check in/out then remember to take a phone. The customs and immigration were both closed, with signs on the door giving numbers to phone. Without a phone we just had to wait half an hour, until the island telegraph summoned the officials for us.
Codrington is a sleepy town with very little in the way of tourist amenities, but Andrea found a t-shirt dress at a (the one and only) street-side stall and we bought jerk chicken for lunch from another street vendor.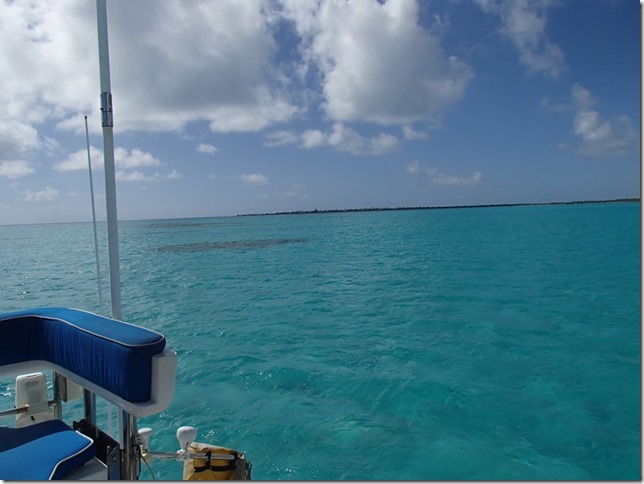 The coral heads are clearly visible brown patches against the turquoise backdrop
Waiting at the bar for the water taxi to arrive
The school kids in Codrington were playing cricket (of course)
---