Becoming Salty Dawgs

Anastasia
Phil May and Andrea Twigg
Tue 5 Nov 2013 17:52
37:01.4N 76:20.4W
We sailed down from Annapolis to Hampton to join the southbound Salty Dawg rally. This rally has various advantages for anyone heading south for the winter, including a set of free charts and a free weather discussion with Chris Parker, who is the local expert on the East Coast and Caribbean weather. The rally also had several get-togethers organized for cruisers (pig roast, barbecue) but we missed those because of our delayed departure from Crab Creek.
You would think that by now a quick overnight hop of 120 miles would be a piece of cake for us, but we still managed to break something en route. One hazard of the Chesapeake Bay is that big container vessels charge down the middle of the bay and there is not a well-defined channel for them, they can choose to go where they want. The MSC Alessia passed by us within 0.3 miles doing 19 knots and the bow wave was so vertical when it hit us that the impact transferred the full weight of Anastasia onto the mainsail. This snapped both the outhaul and downhaul (the lines holding the back of the sail to the boom) and broke a batten fixing.
Ropes are easy to knot, but finding a French-made batten fixing in Hampton on a Sunday was not possible. Andrea came up with the great idea of using our wire twister (Annapolis Boat Show impulse purchase) to repair the broken one, which looks like it will hold up until we can find a replacement.
Anyway, Sunday afternoon saw us anchored in Hampton ready for the departure on Monday.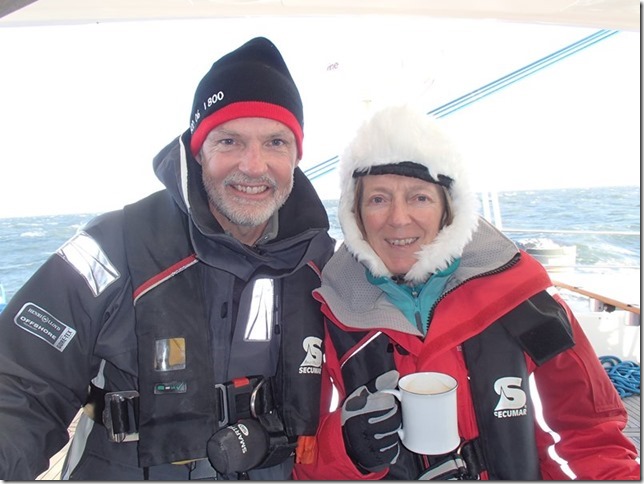 It was cold sailing down to Hampton.
The wake from the cargo ship just snapped two lines
And ripped the end out of one of the batten boxes.
---