Salvador

Anastasia
Phil May and Andrea Twigg
Mon 11 Feb 2013 10:24
12:58.3S 038:30.9W
Salvador is a city on two levels, the port down by the sea and the main part of town at the top of a steep hill. There is an elevator that links the two parts. Our marina is a few hundred yards from the foot of the elevator, which makes it easy to get up into the main part of the city where you find most of the historic buildings and restaurants.
View of the boats moored at the foot of the elevator up to town.
The ARC provided a city tour, which gave us some background to Salvador and its history. It was the capital of Brazil throughout during the time of slavery. It has 365 churches, and we visited one amazingly ornate Franciscan monastery.
The church at the Franciscan monastery
Caroline (Peat Smoke) booked us tickets in a "camarote" (balcony) to see Carnaval. At £350 a head it is an expensive evening out, but it includes food and drink and we had one of the best views there is of the carnival procession.
Everyone in their camarote T shirts ready to go to Carnaval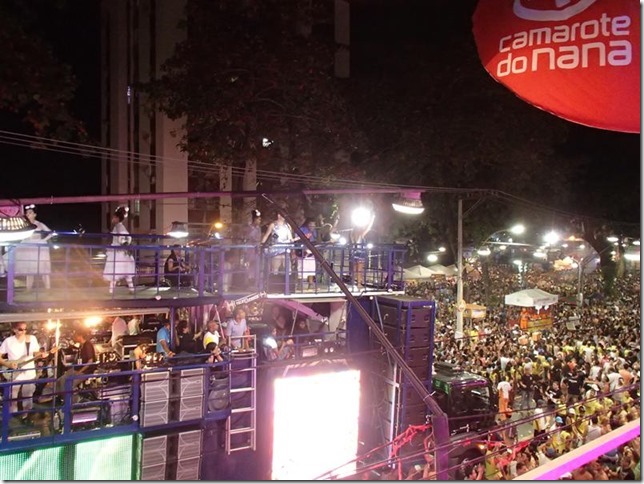 The view from our balcony, Camarote do Nana, as one of the floats passes by
Today we took a tourist boat trip across the Bahia de Todos Santos to visit two islands, Frade and Itaparica.
Frade has a nice beach, if a bit crowded by all the tripper boats that visit.
Good news and bad news on the rudder. The bad news is that the shaft is worn and it will need re-engineering and a custom made bearing fitted. The good news is that, while being clunky, the existing bearing still has some life left in it and it will get us to the Caribbean OK.
---