Nesten klar for avfart

Tatt av vinden
Bjørn Larsen
Sun 14 Dec 2014 16:05
Et nytt kapittel er innledet; båten ble sjøsatt og vi flyttet inn på fredag. Det kjennes godt å bo i eget hjem med alt sitt igjen. Bevares, Lions dive resort er et av de bedre strandhotellene vi har bodd på (utsikt fra rommet på bildet under), men man blir lei av restaurantmat også til slutt.
Mye arbeid er unnagjort, og Bjørn måtte ta de fleste skippertakene noen dager mens jeg var syk, velkjent hendelse når man endelig skal ta en timeout fra jobb. Men nå er vi begge in buiseness og vi klargjør båt og mannskap for overfarten til Santa Marta i Colombia. Det er grei værprognose for de kommende dager, så det haster med å komme avgårde før værgudene ombestemmer se, dette er en beryktet og utfordrende strekning vest i det Karibiske hav. I dag skal vi klarere ut Customs and Immigration. Det er litt mer styr med båt enn med fly. I morgen leverer vi leiebilen og et par andre praktiske ting, så er det kurs mot Santa Marta.
All bunnmaling måtte av, for vi har brukt VC17m i alle år, men det bunnstoffer er teflonbasert, og noe annet kan ikke legges oppå. Derfor ble det sandblåsing (med glass) og tre nye lag med epoxy-primer før to lag med bunnstoff – av en type som passer bedre i Karibia.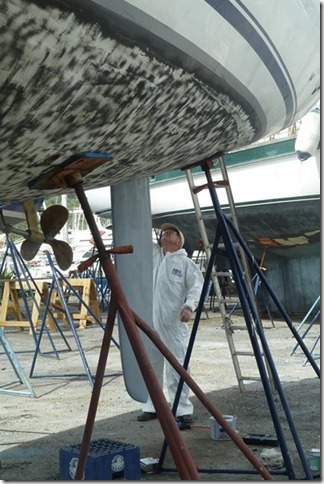 Nedenfor løftes båten av en tilhnger med masse hydraulikk. Veldig trygt og bra, og det hele ble gjort omsorgsfullt og meget forsiktig.
Bildet nedenfor viser at det er like før "Tatt av vinden" igjen flyter i sitt rette element, etter mer enn sju måneder på land. En båt på land er en død ting. I sjøen har den liv og sjel.
Vi har vel også sett nok av Curacao. Øya er først og fremst kjent for sine mange strender, sitt etniske mangfold, språkmektig innbyggere og øyas natteliv. Det siste er ingen attraksjon for oss lenger, vi legger oss stort sett når andre begynner festen.
Curacao er tidligere nederlandsk koloni, nå selvstendig, riktignok en del av det forente kongeriket Nederland. Men nederlansk er fremdeles hovedspråket. Og alle lærer også det lokale karibiske språket Papiamento og engelsk på skolen. I tillegg snakker mange spansk. Papiamento er beslektet med spansk, man sier bon dia, bon tardi osv. Det fins innbyggere fra mer enn 50 nasjoner på øya. Og de levr fredelig med hverandre.
Vi gleder oss nå til å komme til et nytt sted og et nytt land. Colombia har blitt populært for turister og seilere de senere år, og er stort sett «friskmeldt» med hensyn til kriminalitet i de fleste områder mot Karibien. På sjøen ruler US Coastgard, og de har fått slutt på at mindre båter blir kapret for narkotikatrafikk. Det sies at det er dyrt i Colombia, i alle fall allle importerte varer, så båten er lastet med hermetikk og andre hyllevarer, samt et solid lager med vin.
Vi opplever julestemningen litt annerledes her enn hjemme; lange palmetrær med juletrelys snurret rundt stammen. På vår morgentur i dag, satt to kanariefugler på et hjørnespeil og hilste på da vi passerte.
Ha en fin 3. søndag i advent til alle hjemme i vinter-Norge!
---