Hole in the wall, 18 december

S/Y Blues
Bertil Nyberg
Thu 23 Dec 2010 14:35
06:25.259N 099:52.021E
Lagom till lördag lunch lämnade vi Langkawis International Yacht Club Marina, Kuah. Vi skulle bara tanka diesel vid en ponton utanför marinan innan vi skulle styra norrut. Men bränslepersonalen var i land och medan vi väntade åt vi lunch! Kanske inte den mest pittoreska plats att äta på! Så småningom fick vi i alla fall ren diesel i tankarna plus några dunkar för 4,40 kr/l. Att få bra diesel är ingen självklarhet. Ofta tankar man via en tratt med filter för att slippa få vatten i tanken! Färjorna tankade vid denna ponton så det var inget problem med dieseln här. Vi tuffade för motor norrut längs öns östra kust. Målet för natten var något som kallas för "Hålet i väggen". En smal passage in i ett mangroveskogsområde med flera vattentarmar varav en innehåller fiskodlingar och några krogar. Så länge det var ljust forsade de snabbgående turistbåtarna fram och tillbaka i kanalerna och runt oss. Vi gjorde naturligtvis en färd på kanalerna i dingen. Mangroveskogen med dess fantastiska rotsystem är en sevärdhet. Middag intog vi en av fiskodlingarnas krogar och åt en förförisk god grooper (fisk). Krogarna i Malaysia serverar oftast inte någon alkohol (absolut inte de muslimska), ibland kan man få en öl (på de kinesiska). Som alternativ dricker vi gärna vattenmelonjuice, berusande (hi!) gott!
Lunchen åt vi vid dieselpontonen i väntan på personal       Hole in the wall, på Langkawis NE kust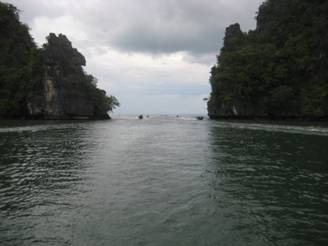 En riktig turistfälla med massor av snabbgående                    Mangroveskogen är fascinerande
turistbåtar på mangrovekanalerna
Bertil och Ernst testar att dingen fungerar                                Vi åt på fiskodlingens krog, Hole in the wall
Krogen med fiskodlingen i bakgrunden                                      Vattenmelonjuice kan rekommenderas!
Att mata stingrays i fiskodlingen tilltalade Ernst! Gift-
gadden var borttagen!
---