RE: Ayia Napa

Ocean Rival Journey Log
Adam Power Diana Power
Sat 30 Sep 2023 20:40
Week to Sat 30 Sept.
It is tricky cleaning a dirty old boat in a pristine marina and a cleaner caught me scrubbing a spare length of oily anchor chain that was in the bilge. I was scrubbing it into the wheely bin so not sure why she was bothered but she reported me and a burly marina guy came by and told me to be careful or else I would be charged for pressure washing the pontoon, I promised to be careful (I was being careful) but felt a bit miffed at the presumption of guilt.
I managed to transfer the main anchor chain from the locker to the pontoon earlier (dropping most of it in the water) and then to Fiona's trolly and then to the hire car boot. Hard work hoisting it out of the drink. Then drove to Nicosia where a galvanising plant was promised by Google. I did phone and although the guy said he didn't speak English he understood anchor chain and said to drop it off. I did- it came out of the boot in a flash as 2 workers appeared and the no English guy said give him a call in a week. Looking forward to seeing a shiny new chain. Hope there will be enough steel left after the acid bath.
As I had the car I took my Brompton to Andreas in Paralimni -the mechanic who adjusted the alternator bracket for me. The pedal had dropped off as the thread stripped out of the aluminium shank. Andreas works alone in a crumbing workshop surrounded by ancient mostly british machinery. He is a magician with metal and created a new thread even though the pedal was a thread he didn't have a die (or is it a tap) for.
Now back to 2 working bikes
Picking away at the jobs and finding new ones. The genoa winches ratchets were sticking so need a strip and clean. New cabin lights in fore and aft cabins. Varnishing steps and surround above the engine bay.
Worried that the sails haven't been delivered from North Sails. Should have been here when I arrived, then promised for 22nd Sept, then the 6th Oct. Havent been able to speak to Avi.
Had a walk round Nicosia old town as I was there. Not very inspiring but some nice churches.
The border to the Turkish north a reminder of Checkpoint Charlie but somewhat lower key.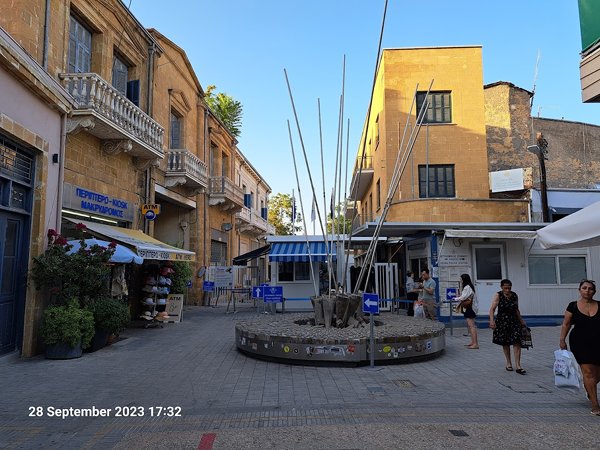 The Cyprus museum is full of pottery and statues. Nothing about the Turkish annexation of the north which seem to be steadfastly ignored apart from occasional graffiti. 'Farmagusta Ghetto'.
The 8 day fast completed and no ill effects. I found a natural health practitioner in Larnaca and called in for a consultation on my way to Nicosia. Polly works out of a basement in the suburbs. She has a British mum and Cypriot dad so sounds very English. She endorsed most of the methods I was following from PH in 90 days and expanded the diet recommendations with a couple of additional supplements. She has studied Homeopathy (among other 'alternative' health methods) but for Prostate prefers healing principally with diet.
The diet is basically organic vegetarian with low dairy, no alcohol, no sweet snacks & less carbs. Lots of water- I find it difficult to consume the recommended quantity specially as not supposed to drink with food. Need to get a juicer for veggy drinks. Should get a glucose test, PH and a Vitamin D test. Feeling altogether positive about the process.
Checked out the posh Robuchon in the marina for supper. Very nice roast cauliflower dish.
---