position N12 09 211 W68 16 747

Ocean Rival Journey Log
Adam Power Diana Power
Sun 21 Feb 2016 05:58
Saturday 20th Feb. Midnight
We arrived Bonaire this morning at around 10 am after a brief stop for lunch yesterday and nap anchored off Los Roques.   LosRoques looks to be a fascinating archipelligo but a complicated and expensive registration process is described in the guide so we decided to pass a longer stop. The glow of bright turquoise water was visible on the horizon from several miles away and  we skirted the change in sea colour as we approached the marked anchorage. Unfortunately the anchorage was a bit deep and choppy for snorkling but the view of low islands each side of us with bushes appearing to be growing straight out of the sea was unforgettable.
We had reduced sail from main and genny to genny only the night before as we were screaming down the waves at breakneck speed (all of 8 knots but feels like 25 at night) and direction control was becomming less certain with islands to miss. We still made 5-6knots most of the way to Bonaire. A bright 3/4 moon made night time sail changes no more difficult than day.
With some difficulty and help from passing yachties in a dinghy we picked up one of the few available mooring bouys off the main town of Kralendyke (anchoring off Bonaire prohibited) ignoring guide warnings about keeping away from town if a quiet night preferred. I took another unexpected dip after the guard wire gave way as I was stretching to reach the bouy-this time fortunately only in swim shorts and shirt. Luckily it was the 2nd of 2 bouys so Diana wasn't left adrift on the helm.
The approach round the island in sheltered flat water left us fairly well rested and fed so we took the short dinghy ride to town for an explore. We were confused that the ATM only offered US dollars but then discovering that the local currency had been ditched for US dollars in 2010. The currency appeared to be not the only US influence as shopping, bars and tourists all had a distinct American wiff.
A walk up to the marina in full sun to pay the mooring fee pursuaded us to hire a scooter for the return journey (and for further exploration). After experiencing our first ever jolly immigration officer (who even refused a fee) and lunch on the pier we mounted our steed and rather uncertainly pootled up the coast road. The beaches wouldn't be easy to spot from the road if it weren't for dive school vehicles  parked nearby. Diving clearly being the main tourist activity. We stopped at one little cove with coral shingle and a few bushes for shade and enjoyed swimming and snorkling in the clearest of clear water.   Amazing corals and colourful fish. Diana even tried snorkling-a 1st experience at the ripe age of -I'm not saying.
Exploring onwards we found fascinating cactus dominated landscapes and my hunch that the west coast would yield sandy beaches was wildly wrong. Instead low volcanic rock cliffs stopped the wild ocean dramatically and under a phallanx of wind turbines we came across the most amazing collection of jetsam thrown up on the cliff-strangely sorted into bottles, timber and shoes.
Back on board now after supper and a quiet nap my dreams were invaded by loud music and squeeling motor bikes- hence the midnight blog. Always heed warnings in guides. I expect that sleep will not return for some time.  
I will try some low res photos.
 Big bum contest contender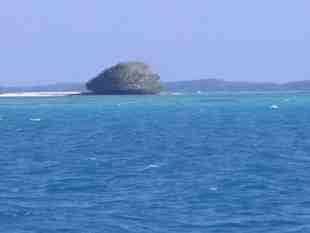 Los Roques
Bonaire
---