position N12 06 000 W68 55 000

Ocean Rival Journey Log
Adam Power Diana Power
Tue 23 Feb 2016 01:43
Tuesday  23rd Feb. 9pm  Curacao Marina, Willemstad, Curacao.
We had another good  day on the scooter yesterday touring Bonaire- this time to the south looking at the mangrove swamps, chasing flamingoes and swimming in the bay. The snorkling was more colourful swimming off the mooring  later in the day.
We slipped our Bonaire mooring at 11.30pm last night and had a rather lumpy light(ish) wind trip to Curacao, arriving at Willemstad at 8.30 in the morning. The very unusual floating bridge was open for us as we entered the river but we couldn't see where the marina might be after a tour around the waterways of Willemstad. We tied up on some dirty black tyres by the immigration building -rewarded with black smudges on the hull, and after usual formalities gained some directions to the marina (right and right again). Much shouting and gesturing by dock workers allowed us to avoid an unseen obstacle and tie up on a finger pontoon with help again from neighbouring  yachties.
The marina is not convenient for the town so a taxi was ordered by the girl in the office and we made our usual mad dash to explore having had little sleep overnight. Willemstad actually is well worth exploring and includes a fascinating (no punches pulled) museum of slavery and african artifacts along with an ancient mesopotanian section. All put together by a private collector in a restored quarter of the city turned into a beautiful Hotel along the lines of Port Marion.  Our atlantic tour has been following the slave routes much as our north sea tour followed the herring. I fail to understand why we (slaver descendants)  have not been strung up wholesale and smoked like herrings by slave descendants in rightous revenge.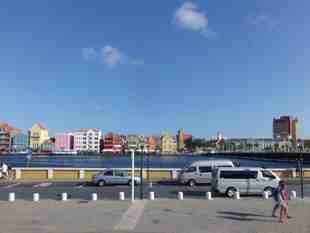 Walking round Willemstad
Lovely lunch stop- cuban styled shabby chic with shelf detail-   hear no evil, see no evil, fart no evil?
The tourist office worker assured us that a 'rond' bus would get us somewhere close to the marina so we confidently jumped aboard one so labelled and while the bus driver didn't appear to recognise 'Marina'  I boldly said I would recognise the stop. Some time later she shrugged her shoulders at me and I pointed at the little map I had with me. Much muttering and tutting followed as she turned back in heavy traffic and actually dropped us right at the marina door with no objections from fellow passengers. 'Next time get a taxi' were her parting words through gritted teeth.  We spilled out shamefuly with thanks and profuse apologies.
Shower, 6pm drinks and supper all followed the established routine. The cockpit view rather industrial here but a full moon put on a show of rising astern with great aplomb.
Tomorrow we will see if we can get a bus to the north coast before setting out to sea again- this time Columbia beckons.
This reminded me strongly of a young Alice or Ellen but actually photo of a slave girl in the museum.
---