position S035 19.100 E174 07.200

Ocean Rival Journey Log
Adam Power Diana Power
Fri 21 Dec 2018 17:00
Friday 8th Nov.  A blustery day in Wellington
We took a bus at the bottom of the hill from Island Bay into the city .
and fought the wind on the harbour front before sheltering in the Te Papa museum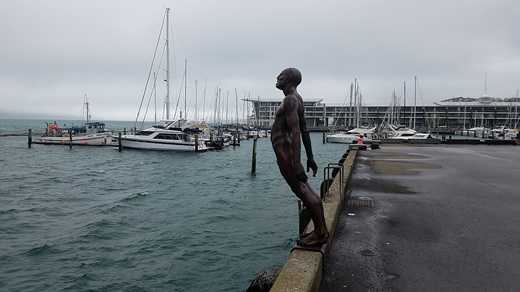 The wind was allowing this chap to achieve  equilibrium- on a less windy day he would probably fall in to the harbour.
We had been recommended to do the Te Papa by Heina & Eva as well as the guide book and it was certainly impressive.
Excellent displays of polynesian art and history along with some impressive modern pieces.
This suspension of Maori style tubular patterns caught my eye.
The Galipoli exhibition was very moving with super realistic double lifesize models produced by the Weta workshop which worked on the Tolkein films.
I later learned from mum that 2 of her uncles died in the campaign.
We walked along to a museum in the house in which Catherine Mansfield grew up. A modest but genteel victorian town house furnished in historicaly acurate syle. Lots of interesting information about her- she sounds interesting but difficult like many very intelligent literary types. 
We managed one more art gallery before catching the bus back to Island Bay.  
---