Thursday 7th & Friday 8th April.

Ocean Rival Journey Log
Adam Power Diana Power
Fri 8 Apr 2022 14:00
The journey to Lombok turned out to be straightforward. Nur turned up at our hotel in good time with his boss who was very keen to drive us all the wall to the marina so he could visit his wife on Lombok. However that involved two car ferry tickets which would have been both slower and more expensive than the fast ferry option. Soraya at the marina had told us about the fast ferry which I thought wasn't running until May. So Nur dropped us at the ferry which drops and picks up beach trippers at the 3 Gili islands just off the coast of Lombok and then dropped us on Lombok where a marina car was waiting to drive us the last 15 minutes.
I tried to capture the chaos of Bali traffic but this looks unimpressive. The traffic hierarchy goes Cars at the bottom, then motorbikes then pedestrians and finally dogs. The dogs sleep on the pavement forcing the pedestrians to step into the road forcing the scooters to swerve forcing the cars to brake suddenly. Priority at junctions is difficult to work out but seems to be given on a 1st come basis.
Before getting depressed by looking at OR we took a room in the marina hotel- not quite up to our 5 star accustomed standard but actually very adequate with all facilities and great view of the garden and bay. Moving back onto the boat is going to be a struggle.
The boat is definitely still the same vessel but looks very sorry for herself, Some water and elbow grease will soon improve the outward appearance but function is another matter. The rudder and prop are both locked solid. Electrics not yet checked. Sails and engine to be assessed. Clothes have been coming off in various states of decay.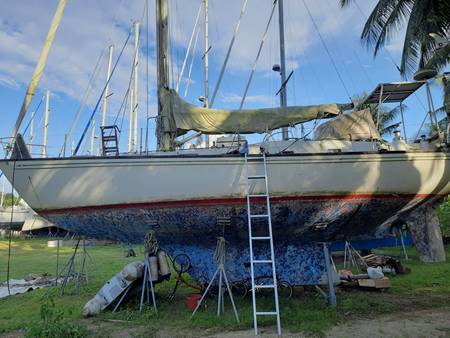 Arno swiftly made us an aluminium ladder to replace the bamboo one-it was structurally O.K but rungs 2' apart were a struggle for old legs.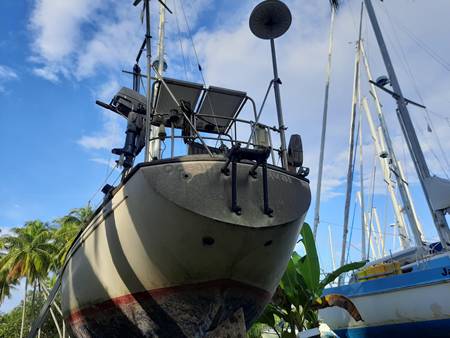 I was checking out what I thought were some flies in the cockpit mains electric cable when a swarm of angry bees burst out and I fled down the ladder while the bees stung me on bare arms and face. Arno produced a can of toxic spray and this was the result
Unfortunately bee keepers are not known here otherwise a less fatal solution might have been possible but I wasn't going to volunteer to move them with no protective gear. As it was the stings faded quite quickly but I did feel strange all afternoon.
A 2nd less substantial nest then became apparent in the anchor locker at the bow. There are plenty more cubbyholes to investigate.
The marina help for general cleaning, sanding etc and possibly electrics does sound promising so progress may not be as slow as just me and D
---