position S035 19.100 E174 07.200

Ocean Rival Journey Log
Adam Power Diana Power
Wed 23 Jan 2019 22:51
Monday 11th Nov. 
With a last view of the Sound with sun rising we headed west from Havelock and wriggled our way to Nelson for a coffee stop. With satisfactory timing we watched the 11am ceremony for the  100 year anniversary of Armistace day. 
An impressive array of vintage vehicles and costumes.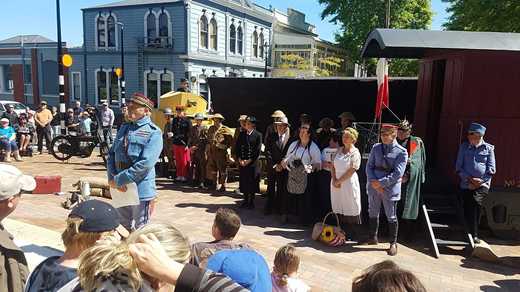 The reading on the Cathedral steps was suitably somber.
We made a quick tour of the regional museum which kept up the high standard of museums that we were beginning to find consistently all through the country. Nelson is the provincial city of the northern region and we later discovered one of the most popular places to move to in NZ.
Moving on the views as we climbed into the mountains became more and more dramatic.
We had time to explore the little harbour and beach having arrived at Pohara before the specified bnb arrival time.
There was one sizeable yacht among the fishing boats. It would have been fun to sail here in O.R.
We were able to suss out the useful sign for the walk for the next day and we also walked up to Wainui falls- a couple of miles up the valley from Wainui Bay
Our Pohara bnb was a suite at the back of this attractive house with great balcony overlooking the bay.
Our hosts gave us tea and cake on the deck and although our room didn't have cooking facilties she cooked my sausages for me while I did the veg. She is an artist with studio in the garden and he a retired farmer.
---