Monday 4th April

Ocean Rival Journey Log
Adam Power Diana Power
Tue 5 Apr 2022 00:35
Left the luxury hotel after a swim and penny pinchers breakfast in the room. (croissant bought the day before and very good filter coffee supplied by Westin).
Ubud is about an hour or so north and we had time before check in at the next hotel to have a nice stroll around the monkey forest in Ubud. There are 4 troops of around 200 in each and it isn't a big forest. Judging by the number of mums with babies they are multiplying rapidly so there must be some sort of population control. Perhaps they send them to Banham zoo. They certainly don't bump them off- one elderly blind fellow shared a luxury isolation pen with a one armed, one legged female. One had a good go at pinching the water bottle out of my pocket but only succeeded in getting the top off. Another jumped on Dianas back resulting in a scream that echoed round the forest and probably caused several premature births.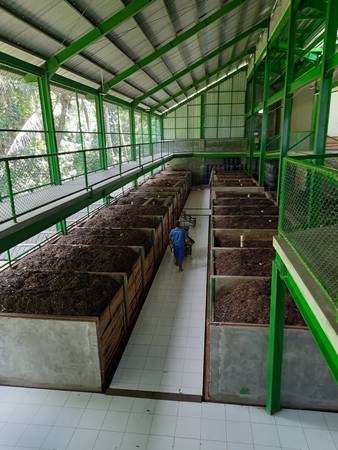 Trying to find the entrance to the forest we wandered in to a compost factory- massive tubs of forest debris rotting away and being bagged up.
The monkeys love playing the water. Jumping from the branches is a great game.
Lunch in the street adjacent to the forest, a snack of humus and bread, was really filling. My usual travel weight loss is certainly on hold in Bali. Supper later was a delicious bowl of sushi tuna, salad and rice. The hotel was tucked away down a narrow side street with a steady stream of scooters flying by. It calls itself a boutique hotel and is delightful-a dozen or so rooms overlooking a little, deliciously cool swimming pool. Costing less than the breakfast in Nusa Dua it is a little gem. A couple of girls were sunning themselves by the pool- one French and one Russian with Ukrainian dad. It was her 5th visit to Bali, has been here since before the 'special operation' started and is staying for 4 months. She is worried about family in both countries but so far no one displaced.
12
Excellent towel origami
We settled in and checked out the guide book- it suggested a trip out to a nearby village to see the egrets and herons returning to roost at sunset in the trees round the village. It was a strange sight- a couple of the houses in the village had set up watching galleries, clearly with sale of produce to tourists in mind but now sadly abandoned. The promised dramatic flight formations didn't occur but still a steady stream of birds arrived and fought over best roosting spot. Some had fought too hard and occasional corpses were suspended gruesomely from branches. Reminded us of jackdaws fighting over our chimneys.
=-----------[
We dropped the car at the hotel and walked down to the centre for supper. Sneaking in to the royal palace after the meal a gamelan band were practicing in one of the temples giving us a private preview of a show yet to be performed.
---