position S035 19.100 E174 07.200

Ocean Rival Journey Log
Adam Power Diana Power
Sun 10 Feb 2019 09:18
Thursday 14th Nov. 
After watching the sun rise over the hills to light up the view and taking our leave of the best unprofitable little farm in the world we drove a little further up the valley to find a footpath that climbed gently alongside a stream (Johnsons Creek) and through beautiful mossy woodland to finish without the fanfare of another delicious view among a boulder strewn gully with cliffs looking ponderously down on us.
Returning to Murchison we had coffee from our bnb host's competitors 2CV van (they were indignant that they had brought french pastrys to Murchison only to have imposters setting up on their doorstep and take business away from them).  
Our next bnb was booked near Hokitika. After following the Buller river and with occasional views of the impressive gorge we hit the west coast at Charleston and followed the coast road south. We stopped near the pankake rocks and instead of viewing the popular tourist site
we followed a recommendation from kayak Mick to explore the Bullock Creek inland.  A long long rough track eventually became unpassable in the car and we parked up and followed on foot a gentle river bordered with flax fields and framed by high cliffs up to a car park with sign offering several walking routes.
Cave creek was really the only option in the time available so we followed the signs and enjoyed a very pleasant walk. At one point this sign intrigued us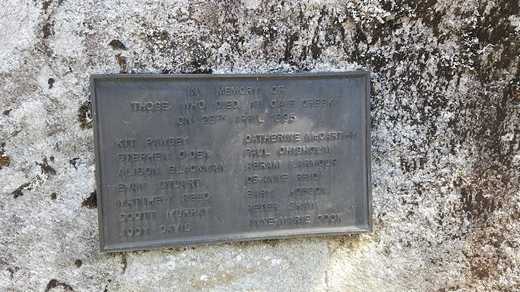 and we speculated as to how so many deaths had occured. The path dropped steeply and finally several flights of wooden steps took us down the the creek and cave.
I enjoyed a refreshing swim in one of the pools but mindful of the deaths didn't swim into the cave in case of monsters. Perhaps a flash flood had swept a party away.  Later googling gave the answer- a viewing platform overlooking the creek had collapsed taking a group of students with it. Health & safety in NZ was given a kick and tightened as a result. They still seem to have a more relaxed approach than us at home however.
Our bnb was just beyond industrial Greymouth (which we passed by as the guide was dismissive)- a very smart apartment above a garage with sea views from the balcony.  A lockbox yielded the key so we didn't meet our hosts.
---