Tuesday 5th April

Ocean Rival Journey Log
Adam Power Diana Power
Tue 5 Apr 2022 13:08
Cockerels, birds and builders working next door woke us early so exercises followed by swim followed by very nice breakfast. I was befriended by a kitten that really only wanted to share my noodles.
We set out for a temple tour hoping to miss the worst of the midday heat. Not entirely successfully but fortunately the chosen site was mostly in a steep sided shady valley with terraced rice fields dropping down to a river. Gunung Kawi at Tampaksiring has 10 holy shrines carved into the rock face of the river gorge creating a delightful scenic climb down and slow hot climb back up. The access is through a street of vendors selling sarongs for the temple but wise now to the ruse we set our hardened faces and sure enough there were free sarongs to borrow at the entrance. The desperate vendors foiled, but guilt building with each one ignored.
The rock carvings and thatched temples almost play 2nd fiddle to the lush vegetation and rice terraces.
We learned that the rice takes 3 months to mature and there can be 2 harvests per year. Our rice master was this man who offered me a coconut to drink.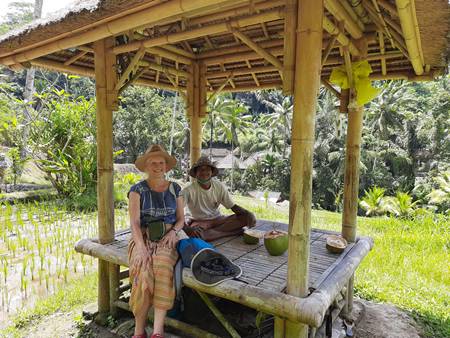 But I wasn't expecting him to pick me one from the tree.
He is either 63 or 73 but either way he has me beat for bravery, strength and flexibility. The tree has shallow steps cut into the bark -about 4 ft apart. Mast climbing a doddle in comparison.
Our Hotel host suggested lunch at a nearby spot with swimming pool. If the ancient Balinese knew how to create stunning vistas in natural surroundings, their modern relatives haven't lost the skill. A restaurant, café, swimming pools, aerial runways, swings and statues vie for attention amid more rice terraces.
The pools are sculpted to mimic the rice terraces , each level spilling into the next.
A few brave souls kept the swing attendants busy
Balinese sculptors are so skillful they can even create lifelike statues from rush
If it seems that I enjoy taking pictures of Mr P about to gobbled by monsters I have to plead guilty.
The 2nd climb out of a steep valley finished us off, hotel for afternoon nap too tempting.
---